Estimated read time: 2-3 minutes
This archived news story is available only for your personal, non-commercial use. Information in the story may be outdated or superseded by additional information. Reading or replaying the story in its archived form does not constitute a republication of the story.
Richard Piatt ReportingPresidential candidate Mitt Romney showed rare candor -- even a hint of temper -- in an encounter with a Des Moines radio host last week.
This week, the off-air discussion about his religion and politics is posted on the Internet.
Romney said, "I accept all my faith. I accept all my faith. But I don't impose my faith on you."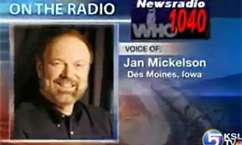 By this point, WHO newsradio talk show host Jan Mikelson had debated Romney for several minutes, off the air. The topic: Whether Romney's faith drove his recent pro-life view of abortion.
On the program ABC News This Week, Romney restated an answer he's given at other campaign appearances.
"I never said I was pro-choice, but my position was effectively pro-choice. I've said that time and time again. I changed my position," he said.
Mickelson is well known in the Midwest as a conservative who peppers questions at his guests. This was a rare unpolished moment for Romney, unaware of a nearby camera, as Mickelson probed how The Church of Jesus Christ of Latter-day Saints influences the candidate.
Mickelson said, "I think you make a big mistake when you distance yourself from your faith."
Romney responded, "I'm not distancing myself from my faith. I'm proud of my faith, and I accept every ... there are Mormons in the leadership of the church who are pro-choice."
"Don't confuse what I do as a member of my faith with what I think would be good government," he said.
It's yet another example of how the Mormon question keeps coming up for Romney. Ex-Romney staffer Kirk Jowers, of the Hinckley Institute of Politics, says a "defining faith speech" could intensify things.
"I think if he makes the speech, it'll be another leap-off point to continue these kinds of questions," Jowers said.
Romney said, "I'm not running as a Mormon. And I get a little tired of coming on a show like yours and having it be all about Mormon."
"I don't mind it being all about that."
"I do," Romney said.
Mikelson responded on WHO's Web site, saying in part, "I wasn't trying to get him to talk about his church's theology, but his church ethics."
But for Romney, it was clearly taken as a challenge that required a strong response.
Mitt Romney's campaign insists Romney showed "exceptional strength" during the encounter. Saturday is the Iowa straw poll, which will give a fresh perspective to all of the candidates' popularity in that state.
×
Most recent Utah stories