Estimated read time: 5-6 minutes
This archived news story is available only for your personal, non-commercial use. Information in the story may be outdated or superseded by additional information. Reading or replaying the story in its archived form does not constitute a republication of the story.
MURRAY -- Murray residents "William" and "Rae" are still reeling from the embarrassment of being duped out of nearly $40,000. That money was part of their retirement savings.
The couple recently found out their eldest grandson was not in a Mexican prison, as they were led to believe, but here at home, safe.
It happened the morning of May 18. Rae answered the phone for a call no parent or relative wants to receive.
Help Protect Seniors from Scams
Older Americans are less likely to report a fraud because they don't know who to report it to, are too ashamed at having been scammed, or don't know they have been scammed. Elderly victims may not report crimes, for example, because they are concerned that relatives may think the victims no longer have the mental capacity to take care of their own financial affairs.
"This voice comes across. 'Grandma.' And of course I am. And I go, 'Yeah.' He said, 'This is your oldest grandson,'" explained Rae. "Then I said his name. And then he started crying, and it sounded just like our oldest grandson."
Rae was stunned. All that came to her mind was the image of her grandson in some Mexican jail -- desperately needing their help.
"He just cried and cried. 'Grandma, I'm so sorry. I only have one phone call,'" explained the voice on the other end of the phone. "And I know my mom and dad are at work, but I was just hoping you and grandpa were home.'"
Rae says it sounded just like her grandson, otherwise "I don't think I would've fallen for that."
Rae's grandson told her a woman supposedly from the U.S. embassy in Mexico City would call, and he desperately needed their help.
"It was just seconds later this lady, Mary Goldstein, called me from the embassy," explained Rae. "She said she was an attorney and she said that my oldest grandson was down there in Mexico City, intoxicated."
This didn't sound right to Rae. When she protested, the woman on the other end of the phone told her to calm down and assured her that she'd do everything possible to make sure her grandson was not mixed into the prison's general population. The woman at the "embassy" told the couple their grandson was safe in a cell by himself.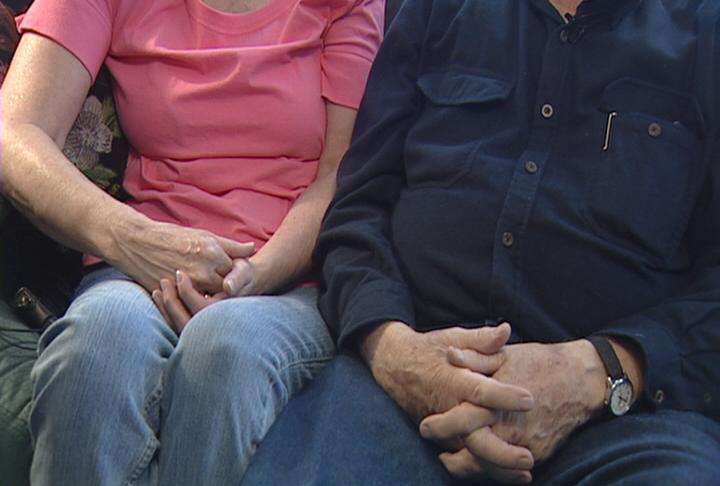 "We've got to get him out of here as soon as we can, the next flight out. We've got to get him home," explained the voice on the other end of the phone. "You need to wire us seven, almost eight thousand dollars, so we do."
Over the course of a few days, William and Rae would wire just under $7,500 several times from different Western Union locations in Salt Lake County to a location in Mexico City. The scammer asked them to wire money for things like a flight ticket, jail fees and bail money.
Each time the story grew more incredible. The woman pretending to be from the embassy told the couple their grandson got into a car accident and badly injured a little girl. The injured girl was the supposed 11-year-old daughter of a famous Los Angeles family -- and they'd threatened to sue William and Rae, and the paparazzi would get involved.
"Well can you at least give us the name of the little girl, so that we can contact her family?" Rae asked the woman, who gave her a name. "Jennifer Newman. I'm believing it, I don't know why. The Newman family was going to sue us for half the hospital bill."
Meanwhile, they were also told not to tell anyone about the incident or call the grandson's cell phone because it was confiscated and he'd get into more trouble. She also assured the couple they'd receive their money back once the situation was over.
---
If you have been a victim of fraud, call the National Fraud Information Center at 1-800-876-7060.
---
William and Rae say these phone calls and wiring of money could've continued longer because they were so scared and made to believe their grandson was truly in trouble. It wasn't until a woman working at the Murray Check Line, a Western Union location, suggested to the couple that this could be a scam.
Then it all began to unravel.
"They were sending multiple transactions," explained Check Line employee Dorothy Strong. "You know, not over the $10,000 threshold, which is usually the limit."
Strong says she has seen people fall for this scam before and instructed the couple to call the police.
William and Rae went to Murray Police, and officers knew right away they were yet another victim of a common crime. The officer instructed her to call her grandson's cell phone. The couple explained that his life could be in danger if they called. She said she nearly fainted when the officer called her grandson's cell phone and she heard his voice.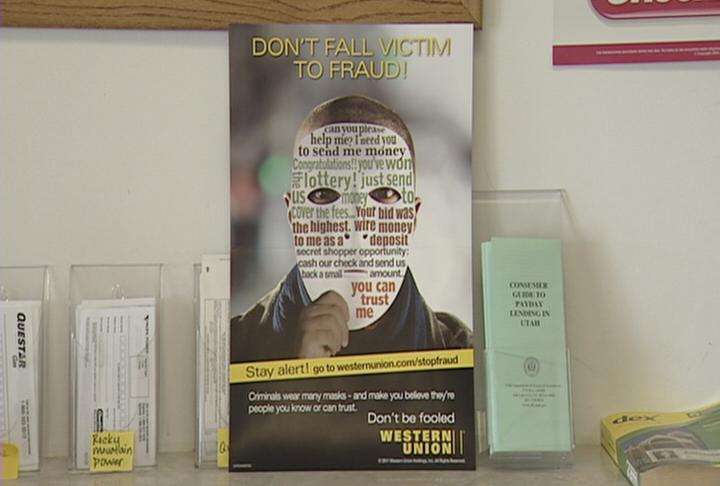 "I feel like I've got a big 'L' on my forehead for loser," said Rae to the officer. "He knew when he was talking to us," explained William.
The officer said that scammers prey on grandparents and great-grandparents. They prey on the one thing that'll tug at the heart-strings -- their love for their grandkids.
"We've been so careful to make sure no one got our credit cards or our social security numbers," explained William. "We thought this could never happen to us."
William and Rae now believe family members should come up with a "danger code" that's only known to family members so that if someone does receive a phone call, if they don't have the code, then they'd know it's not legitimate.
An FBI spokeswoman said, before wiring money to anyone -- especially internationally -- call the local FBI office first and check it out. She said once the money leaves the United States, it's pretty much gone and there's no way to recoup that loss. However, if people find themselves the victim of a scam, report it to the FBI at www.fbi.gov.
William and Rae said if not for the Check Line employee, they would've been out a lot more money.
"You should never send money to people you don't know personally," explained Strong. "That's just should be a general rule."
Western Union also posts signs at its locations cautioning the public to beware of fraudsters.
Email: niyamba@ksl.com
×
Related Links