This archived news story is available only for your personal, non-commercial use. Information in the story may be outdated or superseded by additional information. Reading or replaying the story in its archived form does not constitute a republication of the story.
SALT LAKE CITY — Residents in parts of Utah are dealing with flooded basements, flooded streets, flooded parks and a small rock slide as part of a rainy Memorial Day weekend.
Sevier River on the rise
Many home owners in central Utah are struggling to keep their places dry. The Sevier River is now above flood stage, and water is filling farmland and even houses.
One of those houses belongs to Richfield resident Gwen Roach. "There's not much you can do," she told KSL News Monday. "Fish, the carp, swim by."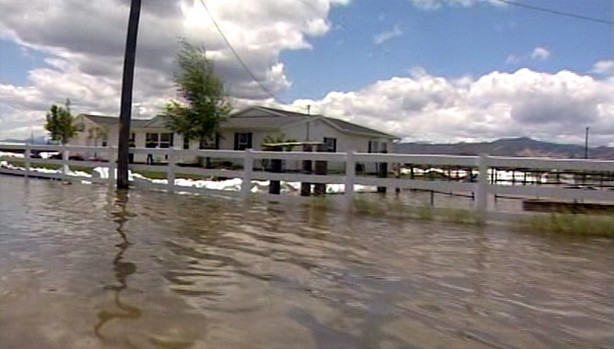 "When the snow melts, we'll have to move," Roach added. "I don't know where we are going to go."
The water has been slowly rising over the past nine days, but overnight the water from the river swelled more than a foot. About a dozen families are working around the clock, trying to keep the water out.
Just down the street, Rex Persons has been working for more than a month to keep the water from his property. He's trucked in 40 loads of dirt and placed 2,000 sandbags around his house.
But the water keeps rising, much higher than he ever imagined.
"We're hoping that it's not going to. But if it does, there's not much we can do," Persons said.
The bulk of the damage is being done to agriculture, as farmers are losing their crops or the ability to plant because of all of the water, but the danger for homeowners is increasing.
"Right now, I know of about four to five houses that have had their basements flooded already because of river water and ground water and all the moisture that's come," said Sevier County Sheriff's Lt. Nathan Curtis.
Several roads have been closed and more homes could be in danger if water keeps rising.
"We have no idea how much water is coming down here," Curtis said. "There's a lot, and a lot more to come in the next two weeks. We're going to see a lot of water."
Counties under flood warning:
Davis
Juab
Morgan
Piute
Sevier
Summit
Utah
Weber
Sevier County has issued an emergency declaration as officials fear the water is going to go much higher in the days and weeks ahead.
Wasatch Front communities on alert
Further north, some West Valley City residents began their Memorial Day dealing with flooding. Portions of the Riverside Community, near 3675 South and 1190 West, were under 6 inches of water due to weekend rain and backed up storm drains.
"Every time we get some rain, we've got a lake," resident Damir Dozic said Monday.
The latest storm was particularly bad for many residents, who have had no choice but to drive through the lake of water to reach their homes. Resident Oscar Segura said at one point, there was nearly a foot of water in front of his neighbor's house.
In nearby Taylorsville, flooding has hit several homes.
Gina Rieke has been pumping 2 inches of water from her basement for a week and a half. Monday was the first time it had remained dry for more than a few hours.
"We squeegeed and broomed and we broomed into the sewer," she said. In 13 years, her basement has never flooded. But now she has a sump pumping running 24 hours a day.
RELATED:
"The ground is so completely saturated that there is nothing you can do about that," she said. "The level goes down a little bit and then we get a storm and it comes right back up again."
Minor flooding has also been reported in Kaysville, Clearfield, Syracuse and other cities.
In Box Elder County, field waters overflowed and lapped onto the freeway at the off ramp to the 1100 South exit near Brigham City. The flooding prompted the Utah Highway Patrol to temporarily shut down a lane of traffic for cleanup. Crews worked quickly to stack sandbags and dirt piles to try and contain the water to the roadside, but traffic was still backed up for several miles.
The Utah Department of Transportation says State Road 39 is closed for cleanup again due to a small rock slide just east of Pine View Dam. It happened around 10 a.m. and no injuries are reported, but UDOT says it will remain closed until Tuesday afternoon.
It happened at the same location as a slide that occurred 10 days ago. This time, however, most of the slide was contained behind a barrier wall placed for that purpose.
Flooding continues from weekend
On Sunday, residents at the Silo Farms mobile home park in West Valley City woke to about 6 inches of water in the street and in their driveways because of clogged storm drains. The rain water, which typically flows into the storm drains and into the Jordan River, crept up to their front doors.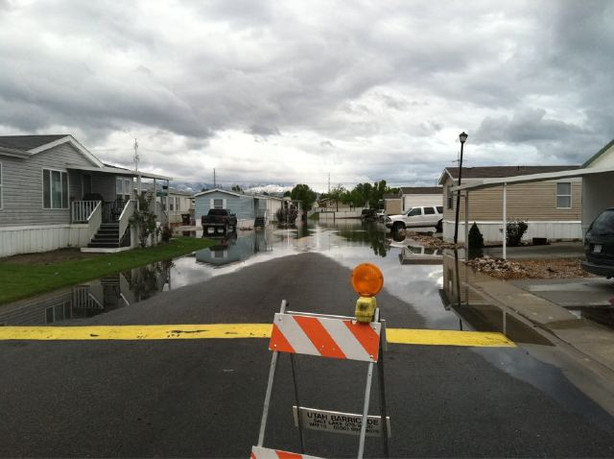 The property managers used pumps to divert the water back into the river. Residents said it was the second time in a week that flooding had occurred. Now they're worried flooding from the river is next.
"It's pretty high. You can actually hear it," said resident Tammy O'Flynn. "We've been here 23 years and it's the first time we've seen it like this."
In Cottonwood Heights this weekend, malfunctioning storm drains sent water rushing into the Journey Healing Center, 8072 S. Highland Drive.
At one point 6 inches of water filled the basement, forcing the staff to move clients to the second floor. The staff then spent hours moving all the furnishings out of the basement while pumps and fans worked around the clock to dry the carpets.
"Hopefully we acted as quickly as possible and managed as much damage as possible," employee Michelle Engstrand said.
Flood warnings in effect
With more rain in the forecast Monday, additional flooding is expected, particularly along creeks and rivers.
Flood warnings are in effect for seven Utah counties as three rivers were flowing over their banks.
The National Weather Service said the Weber River and Lost Creek in northern Utah are flooding and the Sevier River in central Utah was expected to begin flooding midday Monday.
The warnings apply to the northern Utah counties of Weber, Davis, Morgan and Summit. In central Utah, Juab, Piute and Sevier counties are under flood warnings.
Forecasters say between 1 and 2 inches of rain have fallen throughout the state from the storm that began Friday night. More than a foot of snow has fallen in higher elevations.
Flooding has already swamped hundreds of acres of farm land in northern Utah but so far the water is not threatening populated areas.
Get the complete weather forecast here.
------
Story written with contributions from Shara Park, Sam Penrod and The Associated Press.
×
Photos
Related Links
Related Stories