Estimated read time: 1-2 minutes
This archived news story is available only for your personal, non-commercial use. Information in the story may be outdated or superseded by additional information. Reading or replaying the story in its archived form does not constitute a republication of the story.
SALT LAKE CITY -- Federal public health officials want to make absolutely sure all Americans are prepared for the worst -- even if the worst is a zombie apocalypse.
Yes, it's true: the Centers for Disease Control and Prevention is preparing for a zombie invasion.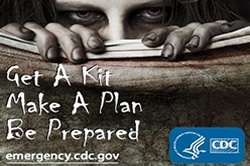 This week, the CDC quietly published a blog alerting Americans that they need to be prepared for any disaster, including a zombie apocalypse.
Dr. Ali Khan is the director of the CDC's Office of Public Health, Preparedness and Response, now dubbed the "Zombie Task Force."
His team was trying to think of a new way to tell people how to prepare for hurricane season when they stumbled on the idea of a zombie invasion.
"There's a lot of real things in this world that can lead to social, political and economic disruption, and zombies serve as a good way for us to be able to talk about that," he said.
CDC's tips
The CDC blog uses humor to ease the anxiety that comes with thinking about potentially dangerous situations.
The blog has important and serious information about disaster preparedness, like creating an emergency kit and planning evacuation routes for yourself and your neighbors.
It's advice heeded even as floodwaters rose recently throughout the southeast.
So don't be scared, be prepared -- even if all signs point to natural disaster... or zombies.
Email: etmillard@ksl.com
×
Related links
Related stories
Most recent Utah stories