Estimated read time: 3-4 minutes
This archived news story is available only for your personal, non-commercial use. Information in the story may be outdated or superseded by additional information. Reading or replaying the story in its archived form does not constitute a republication of the story.
SALT LAKE CITY -- A man driving the wrong way on I-215 crashed into several cars Tuesday morning, leaving a trail of destruction.
Troopers are still looking for the driver, who took off running after smashing into five cars -- including one head-on.
Remarkably, everyone walked away from the scene with only bumps and bruises.
KSL spoke to three drivers who were hit: Eric Latta, Amaya Johnson and Staff Sgt. Luke Hurst. They were all on their way to work Tuesday morning. At about 5:45 a.m., a southbound vehicle entered the northbound lanes of I-215 at North Temple, said Utah Highway Patrol Cpl. Todd Johnson. At California Avenue, the car got into an accident involving four other vehicles.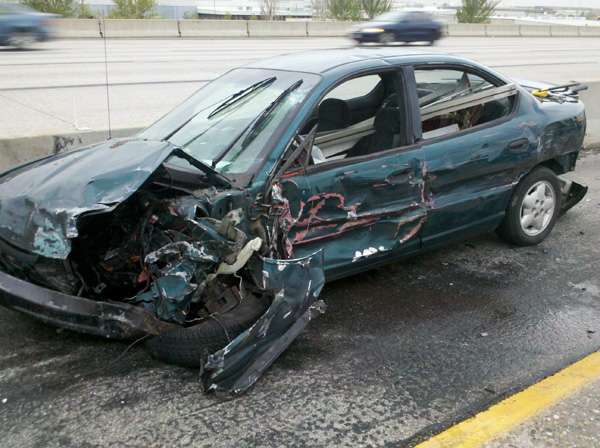 "I didn't expect to see anyone coming down the wrong way," Johnson said.
"It was actually pretty fast," Latta said. "I saw the headlights, and as I started to slow down the impact happened to the first car and then happened to me."
The wrong-way vehicle -- a green sedan -- smashed into the right side of Latta's car, causing his airbag to deploy and sending Latta into it face-first.
Hurst was hit next.
"He hit the wall... [Car] parts are everywhere," Hurst said. "It was a pretty straight impact, it threw me forward."
The unnamed driver hit a total of three cars before his vehicle crashed into the cement barrier. But then, two more drivers -- who were trying to avoid the smashed vehicles -- hit each other.
"I turned my indication on to go left, and someone behind me hit me," Johnson said.
These three drivers all say they feel lucky to be walking away from this crash. Now they just want the driver who caused it all to be caught.
A few seconds after all the vehicles had come to a stop, the driver of the green car ran from the scene.
"I saw the guy running down the road, and I thought it was him," Hurst said.
The driver ran across traffic and down the embankment to nearby Sapp Brothers, where he asked a customer to take him to a nearby clinic. However, when troopers got there, it was closed and he was gone.
"The person who picked up the driver indicated he had a pretty bad laceration on his head," said Sgt. Keith Dockstader with the Utah Highway Patrol.
Troopers believe the driver may have been under the influence when he got behind the wheel. They say they found an interlock device in his car. They also found construction tools and material that may not belong to him, which is under investigation.
The drivers he hit say they hope he is caught soon and held accountable for all the damage he's caused.
"I don't know how much it is going to cost," Johnson said. "Hopefully not too much."
Troopers say they know who the driver is; the person who dropped him off at the clinic helped identify him, and the car is registered to him.
They have also notified local hospitals to watch for him, since they think he will eventually seek medical help for the gash in his head.
Email: spark@ksl.com
×
Photos
Related links