Estimated read time: 2-3 minutes
This archived news story is available only for your personal, non-commercial use. Information in the story may be outdated or superseded by additional information. Reading or replaying the story in its archived form does not constitute a republication of the story.
OGDEN — With warmer weather and higher gas prices, more of us are getting out and about on bikes. Safety advocates say they're worried about trying to prevent accidents.
Thursday evening, Brian Tecklenburg, a seasoned cyclist, was going home from work. When he reached 20th Street and Harrison Ave. he signaled and tried to make a left-hand turn across two lanes of traffic. The first car saw him, the second didn't.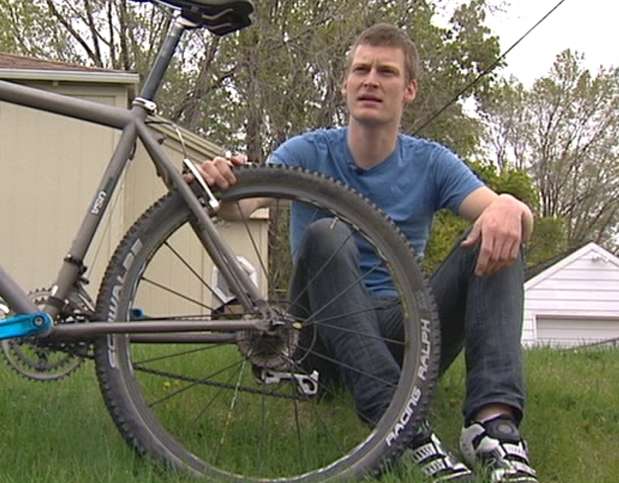 "I wore reflective clothing, had my helmet on, I was riding on the shoulder, I was signaling my turn; the car behind me obviously understood because they stopped for me and allowed me to merge," Tecklenburg said. "I left a lot of space, so I essentially got hit from behind."
The result: his bike was dinged up, but he got away with bunch of bumps and bruises and road rash. He also ended up with a police citation he thinks the motorist deserves rather than him.
"Honestly, I think he just wasn't paying attention," Tecklenburg said.
The head of the Ogden Bicycle Collective says, in general these days, more cyclists are on the roads. "That's bound to cause more interactions with motorists. I think that's the situation we're seeing," John Jones said.
Jones says under the law, bicyclists should be operating their bike just like any other vehicle in the roadway — but he says many motorists and cyclists don't seem to understand that.
"It's very rarely taught in driver's education how to interact with bicyclists," Jones said. "Bicyclists aren't taught how to interact with motorists and how to operate on a roadway."
The Utah Department of Transportation recently commissioned a poll which showed many drivers don't know the rules of road regarding bikes, but many motorists feel cyclists don't follow rules of the road.
Meantime, veteran riders hope things get better. They're all too aware of the risk.
"It's a very frightening experience," Tecklenburg said. "I mean if the car was going 10 miles per hour faster, I might be dead."
UDOT hopes to educate both cyclists and drivers of the equation that it really is an us-versus-us situation. It is planning a Road Respect Rally, a statewide bike tour designed to encourage everyone to understand the rules of the road.
Email: jdaley@ksl.com
×
Most recent Utah stories