Estimated read time: 3-4 minutes
This archived news story is available only for your personal, non-commercial use. Information in the story may be outdated or superseded by additional information. Reading or replaying the story in its archived form does not constitute a republication of the story.
MIDVALE — It's been a nerve wracking couple of weeks for some physics students at Hillcrest High School.
They've prepared for months to have a science project flown into space by the shuttle Endeavour. Theirs is one of 16 high school projects that are on this mission.
Problem is, the launch has been scrubbed twice. For the Hillcrest experiment, which involves eggs from an African claw frog, that's a big deal.
"We're interested in learning how the frog develops, how the nervous system develops, because gravity can play a serious role in the diffusion of morphigens," said Hillcrest High physics teacher Jonathan Miller.
And the best way to accomplish that is to send tiny frog eggs into the vacuum of space.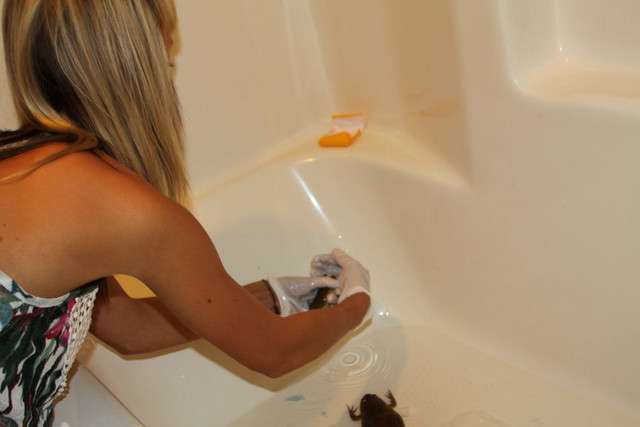 In late April, Miller and three of his students were in Florida, anxious to watch the shuttle carrying their project. But the launch was scrubbed. A new launch date was several days away.
"Which put us into a frenzy to get new samples," Miller said. "Since we are looking at embryonic development, we want the freshest possible eggs to go up on the space shuttle flight."
In order to have fresh eggs, they needed frogs — which they obviously didn't bring with them to the launch.
"Our breeder couldn't get us eggs by that time, so we had to do it ourselves", said Megan Dolle, an 11th grade student involved in the experiment. "So what we did is have eight frogs overnighted to our teacher's hotel, and we had those frogs put into the bathtub at his hotel. And we got some hormones and we injected them to induce their breeding so we could get some fresh eggs to deliver to the space center."
The hormone injections basically gave Mother Nature a little nudge, and the frogs produced thousands of eggs within about 14 hours.
The fresh eggs were then sent back to the shuttle, but again, the launch was delayed. So the students, teacher and their families returned home. They were disappointed, but the students took it all in stride.
"We just realized that that was just part of the process and that's how science works," said Keltson Howell, another student involved in the project. "There's always going to be something that goes wrong or some mistake and you just have to try to work around it and figure out a new solution."
The Hillcrest frog experiment is still a "go" whenever the launch does occur. NASA has set a new launch date of May 16. The students will stay in Utah for the launch and probably will watch it together on TV.
They also have a breeder in Florida who will deliver fresh eggs to the shuttle in time for the launch. But Megan Dolle laughs and says they have a contingency plan.
"If our breeder can't get us eggs in time then we might have to do it ourselves here and overnight them to Florida, but we know how to do it."
Email:kmccord@ksl.com
×
Photos
Related stories
Most recent Utah stories