This archived news story is available only for your personal, non-commercial use. Information in the story may be outdated or superseded by additional information. Reading or replaying the story in its archived form does not constitute a republication of the story.
SALT LAKE CITY — As thousands of runners in the eighth annual Salt Lake City Marathon pound the pavement Saturday morning, Jennifer Christensen will be noodling the best route out of her Millcreek neighborhood.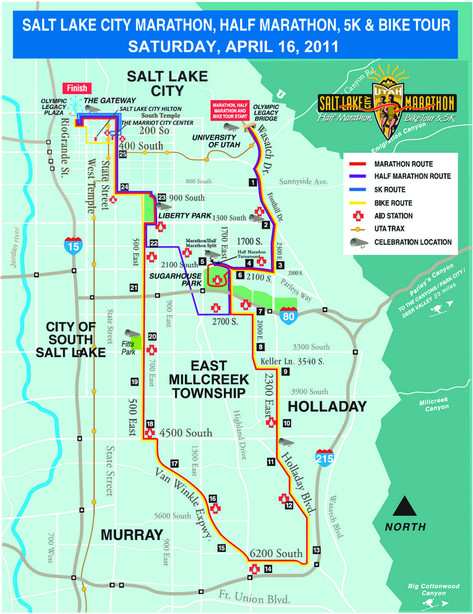 "My brother is getting married Saturday at the (Salt Lake) Temple. Luckily, his fiancée is a runner and she's aware of the situation. I'm just nervous I'm not going to make it to the wedding," Christensen said.
It's a command performance, so Christensen is beginning to map out some alternatives. Last year, she spent 45 minutes attempting to leave her neighborhood during the race. After explaining her predicament to a kindly police officer, she was allowed to cross a street. "Luckily, he let me through."
Despite the inconvenience, Christensen said she enjoys the fact that the marathon winds through some residential neighborhoods. "Sometimes, I wish it was on less busy streets or on fewer main streets. It would make it easier for people who have to commute."
The Salt Lake Marathon, which goes through parts of Salt Lake City, South Salt Lake, Murray and unincorporated Salt Lake County, has some real world impacts — good and bad.
Scott Kerr, the marathon's vice president of race operations for the Salt Lake City, said 11,000 participants will take part in this year's races. Some 1,500 volunteers help stage the 8th-annual event, which also includes a half-marathon, 5K and bike tour.
"We have a lot of moving parts and we're all moving in the same direction. That's a good thing," he said.
Many neighborhoods embrace marathon
The event snakes through five municipalities, so it obviously creates some disruptions, Kerr said. The marathon attempts to mitigate the confusion by working with neighborhoods and teaming with public safety officials to ensure the event operates as safely as possible, he said.
Related
The marathon's websitehas a route map, time frames for each leg of the race and other information.
Over the years, some neighborhoods have come to embrace the annual event, Kerr said.
"Some people go out to the curb with the neighbors and cheer on the runners. We hear more of that every year. It's nice to see and I know the runners truly appreciate it," he said.
The marathon has spectator appeal because "it's one of the few sports events that roll out in your backyard. In addition, it travels through five municipalities. In each one, they witness inspirational stories in their backyards," he said.
Most people interviewed by the Deseret News take the event in stride. If they're aware of the route and projected time frames, most people weather the disruption well.
Loren Mott, director of recreation for Impact United Soccer Club, said the club alerts parents about the race by email and posts a reminder on its website.
"What gets people, if they're already running late and they don't know the race is going on and they get a little frustrated because they can't get where they want to go," Mott said.
"I think if people plan ahead, they're OK," he said.
Even if residents aren't excited about the race, many are accepting of it -- and its disruptions.
Bill Leslie, manager of Leslie's Bakery, 2308 E. Murray-Holladay Road, said the closure of 2300 East "affects us every year."
Intersection closures
| Intersection | Community | Approximate Closure Time |
| --- | --- | --- |
| Foothill Drive and Wasatch Drive | Salt Lake City | 5 a.m. to 7:30 a.m. |
| Foothill Drive and 2300 East | Salt Lake City | 5 a.m. to 8:30 a.m. |
| 2000 East and 3300 South | Millcreek | 5:45 a.m. to 9:15 a.m. |
| Highland Drive and 2700 South | Sugar House | 5:30 a.m. to 9 a.m. |
| Highland Drive and 1700 South | Sugar House | 5:30 a.m. to 9:45 a.m. |
| 4500 South to 2300 East | Holladay | 6 a.m. to 10:15 a.m. |
| Highland Drive and 6200 South | Holladay | 6:15 a.m. to 10:30 a.m. |
| 4500 South and 500 East | Murray | 6:30 a.m. to 11:30 a.m. |
| 2100 South and 500 East | Sugar House | 6:30 a.m. to 12 p.m. |
| State Street and South Temple | Salt Lake City | 6:30 a.m. to 1 p.m. |
Salt Lake City Marathon
"You just have to say, 'That's the way it is.' They have the right to run the race in the street. I don't let it bother me. It wouldn't change anything. It's almost finished off here by 11 a.m. It's (business) really slow in the morning anyway so it doesn't bother me," Leslie said.
Police coordinate with residents
That's precisely the advice of South Salt Lake Sgt. Gary Keller, who has, in previous years, printed fliers in English and Spanish with directions for alternative routes for officers to hand to drivers who are unable to cross 500 East during the race.
Keller said about 30 South Salt Lake officers are involved in traffic and crowd control on race day, starting at about 4:30 a.m. to arrange orange traffic "candlesticks" barricades along the route.
"It's a process, but it all comes together nicely," he said. "The main thing is, people need to plan an alternative route."
Murray Police Chief Pete Fondaco said the marathon hires about 15 officers to provide traffic and crowd control for the turnaround leg of the race that runs along the east side of the city.
"I don't see that it does much (for the city) but cause a bit of a traffic problem. If you were at the start or finish it probably works better because people congregate and spend some money. Here, they just run by the businesses," Fondaco said, chuckling.
Email:mcortez@ksl.com
×
Related Links
Related Stories