This archived news story is available only for your personal, non-commercial use. Information in the story may be outdated or superseded by additional information. Reading or replaying the story in its archived form does not constitute a republication of the story.
SALT LAKE CITY — Some say miracles seem to follow a 31-year-old Salt Lake woman who is determined not to let cystic fibrosis take her down. She has twin boys and has now undergone a double-lung transplant.
Despite the deadly respiratory disease, Julie Hendrickson wanted children. Pregnancy would have stressed her system and damaged lungs cells even more, so fertilized eggs from Julie and her husband, David, were transferred to David's sister. She became the surrogate mother delivering twin boys for the Hendricksons three years ago.
What is ... cystic fibrosis?
Cystic fibrosis is an inherited chronic disease that affects the lungs and digestive system of about 30,000 children and adults in the United States (70,000 worldwide). A defective gene and its protein product cause the body to produce unusually thick, sticky mucus that:
clogs the lungs and leads to life-threatening lung infections; and
obstructs the pancreas and stops natural enzymes from helping the body break down and absorb food.
More information: Cystic Fibrosis Foundation
That in itself was the ultimate gift. But another was yet to come.
"I think what I've learned from all this is that you should never stop hoping and having faith," said David Hendrickson.
Now with active 28-month-old twins, the Hendricksons have another reason to celebrate life. Five weeks ago, Julie got some new lungs.
"I'm not coughing or crackling," Julie said. "I'm not wearing oxygen. I can walk around the neighborhood without feeling short of breath."
Instead of a month of hospitalization, as is usually the case, this Salt Lake mother came home only nine days after the transplant. Her donor lungs are working well.
"It was fortuitous," David said. "All the stars aligned. … They weren't too big or too small."
"I mean it was a perfect fit," Julie said. "They're just healing great. I mean they're pink and healthy."
Three days a week now, Julie goes to the University of Utah Hospital for rehab to work out and strengthen her new lungs. Running with David, going on vacation, playing with the twins, traveling of a plane without oxygen — these are future things the Hendricksons could never have envisioned when they celebrated the holidays last year.
David said, "Early November or December I said to Julie, this is the happiest I've ever been in my entire life. And I knew I had the looming possibility of her passing away that spring — the next spring."
But the life clock has been extended. Julie and David don't worry or count the minutes or hours. For them, happiness has always been a day-to-day experience.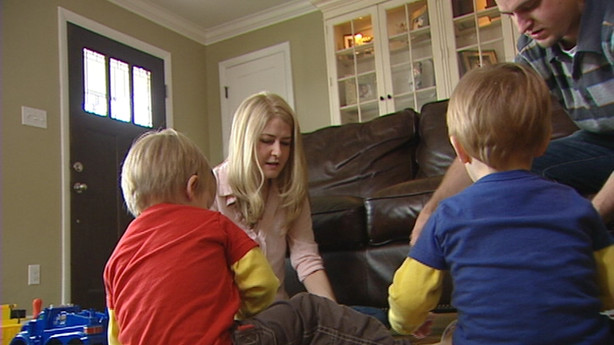 From children, to having a transplant, or what is yet to come down the road – Julie simply says "Go for it!"
"I think too often we worry about the inevitable, uncontrollable future," David said. "Just focus on today and not what might be or what could be. I mean I've learned it all because of her."
Because the survival from cystic fibrosis is not good, David and Julie have learned not to predict the future. Still, he says, "we can't live our lives off of statistics."
Miracles? Perhaps.
"I feel blessed," Julie said. "We've had prayers from all our loved ones — from everybody."
As some say, this is a pretty "cool" family.
Julie will have to take immunosuppressive drugs daily for life so that her body doesn't reject the lungs.
Once the person has received a lung transplant, CF doesn't go away. The Cystic Fibrosis Foundation says transplanted lungs come from people who do not have CF, so the new lungs do not have CF; however, after the transplant, the recipient still has CF in the sinuses, pancreas, intestines, sweat glands, and reproductive tract.
The new lungs do not "get" CF, but immunosuppressive drugs may decrease the ability to fight certain germs that may stay in the upper airways after the transplant and can infect the new lungs.
Email:eyeates@ksl.com
×
Related Links
Related Stories