Estimated read time: 2-3 minutes
This archived news story is available only for your personal, non-commercial use. Information in the story may be outdated or superseded by additional information. Reading or replaying the story in its archived form does not constitute a republication of the story.
Carole Mikita ReportingA very unique scouting event took place in Salt Lake this evening, but what was supposed to happen afterwards didn't. Israeli Jewish scouts and Utah Muslim scouts did not meet.
Utah scout leaders had wanted the young people from Israel to meet a Salt Lake Valley troop of Muslims, but only their leaders came.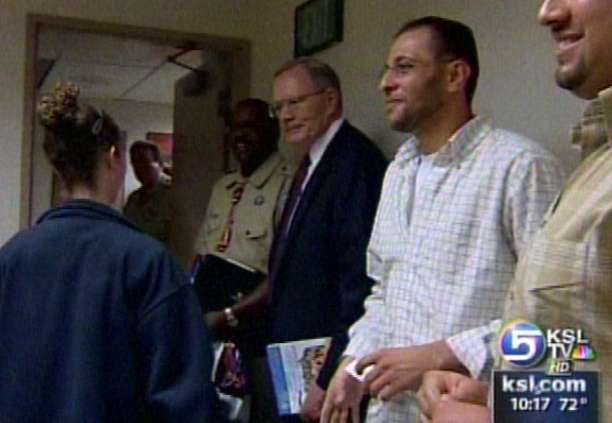 Utah Scouting stepped into international relations when members of the Friendship Caravan from Israel performed. The young men and women are Israeli scouts who tour the U.S. every summer.
Danny Kadyshevitch, of Ashdod, Israel, said, "To do the best as I can to show the American people what is Israel for me, and what is Israel, just as Israel."
Nitzan Bashan, of Ramat Yishay, Israel, said, "You get to see all of the country here. And I like to be on stage and dance and sing. So it's the best thing I could do."
These performances were supposed to take on interfaith importance, but they didn't. Apparently, this show of patriotism was a bit too much for the Muslims.
The Muslim scout leaders, Palestinians, said it was nice to meet the Israeli scouts but did not bring their young people.
Utah Boy Scout leader, Nadal al Sharif, said, "It's something that scouts come together to learn about different faiths, different cultures, away from the politics."
The Friendship Caravan will likely return next year. Scouting leaders here hope to try this particular interfaith activity again.
Larry Houston, vice president of the Great Salt Lake Council, says, "Whether it's based upon being Islamic, or whether it's based on being Baptist, or LDS, or any religion, we're open to that. We want to make sure we continue to emphasize that with the community and all our young people."
The Muslim scouts have hosted scouts of other faiths, even inviting them to their mosque. There may be another opportunity to meet the Israeli scouts next year.
×
Most recent Utah stories