This archived news story is available only for your personal, non-commercial use. Information in the story may be outdated or superseded by additional information. Reading or replaying the story in its archived form does not constitute a republication of the story.
SALT LAKE CITY — The sounds and movements were similar to what one would find in a school classroom, but slower and much more calculated, as the participants are nearing their 70s and 80s.
Most of them have fallen victim to Alzheimer's disease, which is claiming more and more Utahns every year, leaving families all but destitute in its wake, losing most of what used to be all too familiar. The biweekly activity sessions, however, where Alzheimer's patients are bused to a care center in Provo for intensified interaction, are something they definitely look forward to.
What is Alzheimer's Disease?

Alzheimer's is a brain disease that causes problems with memory, thinking and behavior. Symptoms usually develop slowly and get worse over time, becoming severe enough to interfere with daily tasks. Alzheimer's is the most common form of dementia, a general term for memory loss and other intellectual abilities serious enough to interfere with daily life. Alzheimer's disease accounts for 60 to 80 percent of dementia cases.
"It's a joy to have something in your life besides just sitting around and staring at the wall," said 79-year-old Dick Winter, who said he's "gotten to be a lot older than I used to be."
During an LDS mission to the Nauvoo Temple about six years ago, his wife, Mary Winter, noticed that he wasn't able to carry out many of the tasks he was asked to do.
"It's a big change in life because we'd been used to having conversations and Dick is very quiet now, he sleeps a lot during the day," she said, adding that the couple rarely goes out to socialize anymore.
She has had to adjust to many changes since they found out he has Alzheimer's disease.
"I'm holding up pretty well for an old geezer," Dick Winter said. He has a vivid long-term memory and can share lengthy stories of his youth, including the day he met Lowell Bennion, a pioneering advocate for the poor. He eventually succeeded Bennion as executive director of the Community Services Council in the Salt Lake Valley.
Lucky for him, however, Mary Winter still believes it isn't too difficult to care for her husband in their Salt Lake home.
More Utahns affected by dementia diseases
More than 132,000 Utahns are caring for family members or friends with Alzheimer's disease and other dementia and with only half of the affected population actually diagnosed, the issues surrounding the aging population are only expected to get worse.
With increased awareness of the disease, its conditions and, more importantly, its increasing prevalence, local Alzheimer's Association director Jack Jenks believes more can be done to alleviate its impact on individuals and society as a whole.
"We're trying to get it out there that you don't need to hide in the closet anymore," he said. Jenks said the current dialogue about Alzheimer's "is about where the discussion on AIDS was in the '80s, or where cancer was in the '50s."
But the number of people who have Alzheimer's or other dementia, including Huntington's disease or Parkinson's, is only growing with the aging population. Utah is already No. 2 in the nation for the number of those affected; The state is expected to lead the nation in dementia growth by 2025, with a 127 percent increase.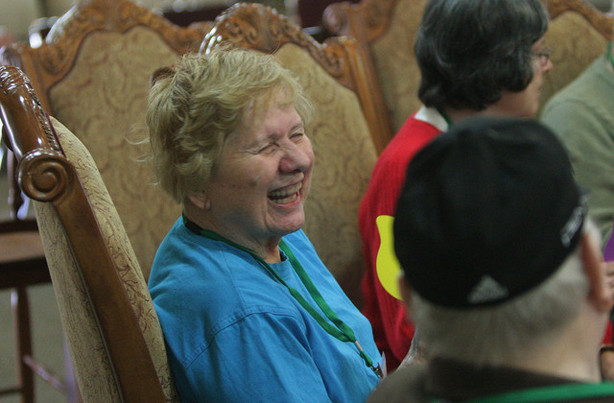 "The numbers are growing faster here than anywhere else in the country because we live longer here," Jenks said. "We have a healthier lifestyle here."
A recent report published by the Alzheimer's Association reveals that the disease is the sixth-leading cause of death in in the U.S., without a way to prevent, cure or slow its progression.
"We don't even know how it is caused," Jenks said, adding that millions of dollars are going toward research to better understand the disease. However, death rates from other prominent diseases are declining, while death rates associated with Alzheimer's disease are rapidly increasing, 66 percent since 2000.
Families feel burden of illness
One in eight people over 65 can expect to be diagnosed, and Jenks said the probability increases 5 percent with every year of life after that.
"It's a family disease. More than any other disease, it affects the entire family," Jenks said. "And families are just never ready to deal with the issues surrounding Alzheimer's."
Most people can expect to live four to eight years after being diagnosed with Alzheimer's, but some live up to 20 years with the disease, placing increasingly intensive demands on family members or friends who provide care.
10 Warning Signs of Alzheimer's
Memory loss that disrupts daily life
Challenges in planning or solving problems
Difficulty completing familiar tasks at home, at work or at leisure
Confusion with time or place
Trouble understanding visual images and spatial relationships
New problems with words in speaking or writing
Misplacing things and losing the ability to retrace steps
Decreased or poor judgment
Withdrawal from work or social activities
Changes in mood and personality
The task is daunting for caregivers, who often struggle themselves to understand a disease about which little is known. Not only do they assume the daily tasks of personal care — bathing, dressing and grooming the affected individual, but those who care for patients of Alzheimer's become responsible for shopping and feeding, as well as increasing safety and mobility issues.
The support group offered by the association has been a lifeline for Mary Winter, who said it helps to talk about things.
"Our generation didn't talk about our troubles," she said. But knowing others who deal with similar issues has helped her to cope.
Coexistence impacts everyone's life that comes in contact with Alzheimer's patients and out of pocket costs can reach beyond $21,000 a year to place a person in a specialized care center. Home treatment is much less, but still has an impact on family finances, Jenks said.
Activities keep the brain healthy
The local Alzheimer's Association offers various cognitive activities as part of a new program, called the "Cognasium," and the group has also joined up with the Utah Symphony and the Utah Opera to take music into various care centers across northern Utah throughout the month of May.
Research has shown that cognitive decline doesn't necessarily translate to decline in the senses, according to the report. Keeping the brain stimulated, active and engaged is important as people age.
"People with Alzheimer's still have a life. They can smell fragrances, they can paint pictures. Music is a calming and supportive influence in their lives," Jenks said, adding that sensory enjoyment is "one of the last things to go."
Memories often come to light, and can even be recounted when familiar music is heard or various artwork is seen or experienced, Jenks said. He just wants to get the word out that much of the complications resulting from Alzheimer's can be counteracted by early diagnosis and detection.
Available medications and other treatment options can have a positive impact on the progression of the disease if it is done early, he emphasized. "People can still lead very productive and successful lives."
E-mail:wleonard@ksl.com
×
Photos
Related Links
Related Stories