This archived news story is available only for your personal, non-commercial use. Information in the story may be outdated or superseded by additional information. Reading or replaying the story in its archived form does not constitute a republication of the story.
John Daley reporting From combating gangs to infiltrating the Ku Klux Klan, at least one Utah police officer has plenty of stories to tell.
He's retiring after a 20-year career as an investigator with the Utah Department of Public Safety. Now he's sharing some of his stories.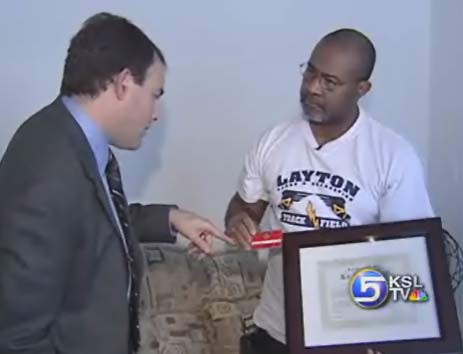 Former police officer Ron Stallworth has an ID card issued to him by the Ku Klux Klan.
Ron Stallworth, Former Police Officer: "First of all they never knew I was a black man."
In the late 70s, the Klan was expanding in Colorado. Stallworth, .an undercover Colorado Springs cop, infiltrated the white supremacist group by first by answering a Klan newspaper ad by phone.
Ron Stallworth, Former Police Officer: "I used all the buzz words that they like to hear, that they like to use. And the guy was very enthusiastic. You're just the kind of guy we want and everything. We want to meet you."
A white officer posing as Stallworth went to meetings. Through numerous phone calls, he got know Klan leader David Duke.
Stallworth eventually was asked to lead the Colorado Springs chapter, so he soon disappeared.
The one-year probe helped limit cross burnings in the area, and eventually uncovered Klan members in the military. Stallworth says that included two at NORAD.
Ron Stallworth, Former Police Officer: "It turned out that these two guys were sitting at a console with their fingers on a trigger of nuclear weapons and they were Klansmen. So the army didn't play around. They got rid of them that quick."
Stallworth's career led later to undercover narcotics, and then to pioneering work tracking Utah gangs by studying their music and graffiti.
Ron Stallworth, Former Police Officer: "We needed to get educated about the problem. Who are these guys, what are they, what are their motivations, why are they here?"
One lawmaker calls Stallworth's contributions immeasurable.
Rep. Duane Bourdeaux, (D) Salt Lake City: "Having someone of his stature be able to get behind the scenes, and know the street mentality and know people, be able to do that type of work. I don't think anyone can just do that type of work. It takes a skill level and I think that's what Ron brought to law enforcement."
Ron Stallworth, Former Police Officer: "Every time you go undercover, you have butterflies in your stomach, that's part of the adrenaline rush that we get as undercover cops, that's one of the reasons why we do it."
Another reason: You compile plenty of war stories and mementos no one else has.
Next up for for Stallworth...he plans to relax and enjoy his retirement.
You can read more about his experiences in Thursday�s Deseret Morning News
×