Estimated read time: 2-3 minutes
This archived news story is available only for your personal, non-commercial use. Information in the story may be outdated or superseded by additional information. Reading or replaying the story in its archived form does not constitute a republication of the story.
Whit Johnson ReportingA 2-year-old boy was standing right in harm's way, as his mother accidentally backed over and killed him.
"She saw her child standing there, went to hit the brake and hit the gas instead," explained Lt. Doug Edwards of the Orem Department of Public Safety.
The family immediately rushed the child to the hospital, but his injuries were far too severe.
Accidents like this happen every year. The possibility is always there. Programs like Spot the Tot attempt to educate the public on the dangers of back-over accidents.
Orem authorities insist this was just a tragedy, and no one is to blame.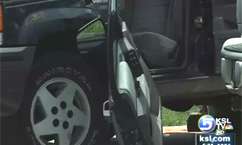 It happened just after noon Sunday near 4800 East and 300 North. Authorities say a woman went out to move her car and as she was backing up, she noticed her 2-year-old son running toward her. Instead of putting her foot on the brake, she hit the gas and lost control of the car.
"The open car door, I believe, caught the child," Lt. Edwards said. "He fell down into the gutter. The wheels rolled over him. She continued in her panic as she was still on the gas, and she ended up running into a trailer on the other side of the street."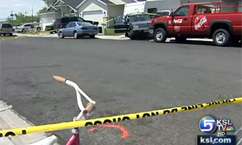 Authorities took a blood alcohol test from the mother because there were some empty beer bottles found in the car and near the accident. But at this time they do not believe that alcohol was a factor.
They say the woman did not appear to be impaired, and they're just calling this a horrible accident.
We checked the statistics, and each year 65 children under the age of 10 are struck or run over in a Utah driveway. On average, five of those children who are hit die from their injuries.
The Utah Department of Health has tips to prevent such tragedies.
"Spot the Tot" Tips
Walk around vehicle before getting in.
Know where children are.
Roll down window when backing up, in order to hear children.
Teach children to move away from vehicles once they've started.
×
Related links
Most recent Utah stories