Estimated read time: 2-3 minutes
This archived news story is available only for your personal, non-commercial use. Information in the story may be outdated or superseded by additional information. Reading or replaying the story in its archived form does not constitute a republication of the story.
SALT LAKE CITY -- A man has come to Utah with little more than hope. He's watching for improvement in his daughter's health while her twin and the rest of the family are living in Idaho.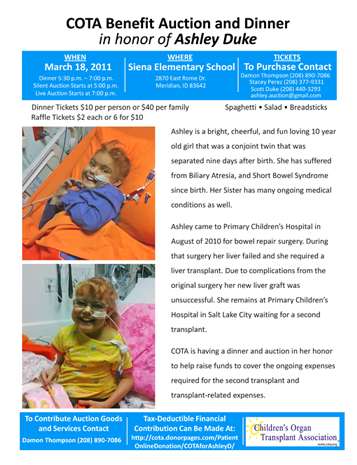 Ten-year-old Ashley Duke is back in the hospital for another surgery.
"On and off it's been a roller coaster ride. We have good days and bad days," says Scott Duke, Ashley's father.
It was a great day 10 years ago when Scott and Tina Duke found out they were expecting. But at a routine doctor's visit, they learned their twin girls were conjoined.
"From there it was just a lot of doctor visits," says Tina Duke, Ashley's mother. "We were told to abort. We said, 'No. Find another solution.'"
Nine days after their birth, doctors separated Heather and Ashley. The girls were attached at the stomach, sharing a liver and bowel. A decade later, the two have endured numerous surgeries -- Heather has gone through six, but Ashley has had 32.
"She's considered an extreme miracle case," Scott says. "Most of the doctors consider her a miracle."
Since birth, Ashley's liver has slowly failed. Last August during a surgery to repair her bowl, the liver completely stopped working. Five days later she received a liver transplant.
Ashley's liver graft did not take, and she has very limited function. Her bowel cannot be repaired until that function improves or she gets another liver transplant.
"It's tough to see any child suffer, especially your own," Scott says. "She's been limited to what she's been able to do her whole life."
Scott has remained with Ashley in Salt Lake while Tina stays with their other two children in Idaho. The separation has been difficult on everyone.
"She's sick and needs her mom there, and I can't be there," Tina says.
Distance isn't the only struggle. Years of surgeries and medication have added up to millions of dollars. Insurance has covered most of the costs, but Ashley has hit her lifetime maximum. She's currently being covered by institutionalized Medicaid.
"We've taken all of our money out of savings and retirement. We have taken a second mortgage on the house," Scott says.
"Because I've had 10 wonderful years with my two daughters, I wouldn't give it up," Tina says.
Family and friends have set up a fundraiser to help the Dukes with their medical costs. For more information on how you can donate CLICK HERE.
E-mail: kaiken@ksl.com
×
Most recent Utah stories