Estimated read time: 2-3 minutes
This archived news story is available only for your personal, non-commercial use. Information in the story may be outdated or superseded by additional information. Reading or replaying the story in its archived form does not constitute a republication of the story.
Deanie Wimmer reporting A Utah community now holds the title of "Best in the nation" at keeping kids safe.
Unintentional injuries are the leading killer for children under age 14. The Safe Kids Coalition in Davis County is credited with saving countless lives by preventing injuries.
Jaxon Ombach and his friends walk to school when it's cold. But normally he prefers his bike, even after a crash so serious it cracked his helmet.
Jaxon Ombach, 5th Grader: "My front wheel popped up and I landed on my head. And it hurt."
He was lucky for two reasons.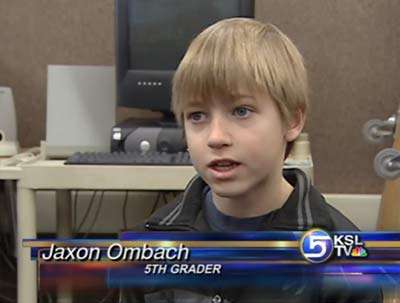 Jaxon Ombach, 5th Grader: "I didn't break my head and I wore my helmet."
Not long before the crash, he attended a safety fair where he learned the importance of wearing a helmet.
Efforts like these are what earned the Davis County Safe Kids Coalition national recognition.
Teresa Smith, Davis County Safe Kids Coalition: "We just have done a great job this year and we hope to continue."
Over the last year, the coalition held bike safety activities where 2,000 kids attended. At other outreach events, they've given out 1,000 gunlocks and checked around more than 400 car safety seats.
But most impressive is data from the state health department. The rate of hospitalizations for children in Davis County since the coalition formed a decade ago, has gone from twelve per one thousand to seven per one thousand.
Teresa Smith, Davis County Safe Kids Coalition: "If there is one life saved, all of our efforts are successful."
Now as they give this believer a new helmet, he'll spread the word to his friends.
Jaxon Ombach, 5th Grader: "After they reach 5th or 6th, they kind of think, I really don't need a helmet, but I always wear a helmet"
Davis County organizers say the biggest key to their success is getting parents involved in school and home safety.
×
Most recent Utah stories