Estimated read time: 2-3 minutes
This archived news story is available only for your personal, non-commercial use. Information in the story may be outdated or superseded by additional information. Reading or replaying the story in its archived form does not constitute a republication of the story.
Jed Boal ReportingIn August President Bush came to Utah to address The Veterans of Foreign Wars, meantime, protesters raised their voices down the street. One war with two different viewpoints. It's number five on our list of the Top Stories of 2005.
President Bush counts on Utah for steadfast support.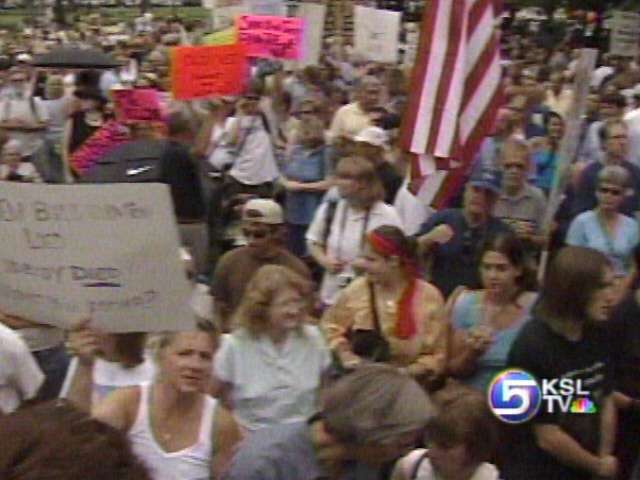 President George W. Bush: "After September 11th, 200, I made a pledge, America will not be, will not wait to be attacked again. We will go on the offense and we will defend our freedom."
When the Commander-in-Chief arrived at the VFW Convention in Salt Lake, supporters welcomed him. Blocks away two thousand people protested the war in Iraq, likely Utah's largest protest since the 70s.
Celeste Zappala, Gold Star Mothers for Peace: "There were no weapons of mass destruction. There was no link to Al-Qaida. There was no link to 9-11."
Celeste Zappalla's son died in Iraq and she vowed to work to end the war.
Celeste Zapppala: "This policy is a disaster, we can no longer pretend it is working. Three more soldiers died overnight. It has to stop."
War veterans with sons who served joined the push for peace.
George Huntzinger: "I think people are starting to wake up and I'm so glad people are beginning to wake up."
The crowd cheered for Mayor Rocky Anderson who organized the rally, but not everyone saw it that way.
Sen. Orrin Hatch, (R) Utah: "You're always going to have nutcakes out there no matter what you do."
In his second visit to Utah as President, George W. Bush reminded the Veterans group why the US is fighting in Iraq.
President Bush: "In all their objectives our enemies are trying to intimidate America and the free world. And in all their objectives they will fail. "
Ryan Chambers, Iraq War Veteran: "You have support from your higher-ups in your command, but to hear it from the president himself, supporting the troops so the fight over there isn't lost."
For this crowd, strong words struck a chord.
×
Most recent Utah stories