Estimated read time: 2-3 minutes
This archived news story is available only for your personal, non-commercial use. Information in the story may be outdated or superseded by additional information. Reading or replaying the story in its archived form does not constitute a republication of the story.
Alex Cabrero Reporting A pair of fires marred two July 4th fireworks shows in southern Utah. We've been hearing about fireworks danger and our state's dry conditions all week long, and these two fires prove it. One fire took away from a fireworks show, while another was because of the fireworks show.
The LaVerkin fireworks show is a July 4th event everyone in town looks forward to, only this year, it had to be canceled on the spot because the firefighters who put on the show were called to fight another fire.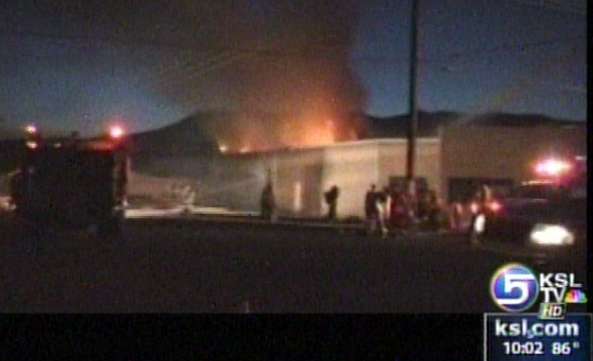 A furniture shop began burning when ceiling oils ignited about an hour before the city's fireworks were due to launch. That meant no firefighters would be able to be at the fireworks show if something went wrong, so, no fireworks.
As firefighters got that fire out, another one started in Springdale, because of the city's fireworks show. Earlier in the day, fire crews sprayed water onto the slopes in town, hoping to avoid any sparks turning into a full-blown blaze.
As the crowd gathered to watch the show, one of the sparks from the first batch of fireworks landed on a slope and started burning.
Phillip Bimstein, the former mayor of Springdale, was in town and saw it start. "I'd say when I first noticed it, it was about the size of a couple of vans, I'd say, a couple of cars. But within a minute or two, it was about eight times that size."
The fire was a few hundred yards away from homes, and the audience, who had to leave when the fire got out of control. Eventually, fire crews put it out, but not before it burned 19 acres.
Bimstein said, "I would question whether we should continue shooting fireworks that close to that dry vegetation."
The good news in both fires is that no one was injured.
×
Most recent Utah stories