Estimated read time: 2-3 minutes
This archived news story is available only for your personal, non-commercial use. Information in the story may be outdated or superseded by additional information. Reading or replaying the story in its archived form does not constitute a republication of the story.
SALT LAKE CITY -- One of the FBI's most wanted fugitives may be back in Utah.
Jason Derek Brown is wanted for murder and armed robbery in Arizona.
Brown, who once lived in the Sugar House area, has been on the run since 2004 when he allegedly shot and killed an armored car guard in Arizona.
The FBI says someone who knows Brown reported seeing him in South Salt Lake about a year ago.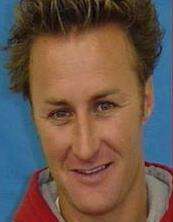 "He's somebody that doesn't want to go to jail and will stop at anything not to go to jail," said FBI Special Agent Lance Leising, who is assigned to the Phoenix Division.
Fluent in French, highly educated and well-traveled, Brown, 41, isn't your typical criminal.
Yet he's one of the FBI's 10 Most Wanted Fugitives. That list also includes Osama Bin Laden.
"Somebody who had little to no criminal history, had a life of cons, but most of them white collar crimes, and then graduated to a flat out assassination of an armored car guard," Leising said.
That armored car guard was 24-year-old Robert Keith Palomares.
In November of 2004, Palomares was shot multiple times in the head at point-blank range when walking out of an Arizona movie theater with a bag of money.
His brother Derak Palomares, who talked to KSL from his home in Coachella, Calif., says the crime was cold blooded.
"He stalked the routes, he planned it very well and it was a sick crime," said Derak Palomares. "It's just difficult how somebody could get away with such a crime."
According to the FBI, Brown was in Utah before the shooting, planning the crime. He passed a background check and bought a .45-caliber handgun at a gun store in Kearns.
Authorities say Utah appeals to Brown, who was raised in the Church of Jesus Christ of Latter-day Saints. He loves to ski and be in the outdoors, and he also has a lot of associates in the state.
"He could absolutely be in Utah," Leising said. "It's some place he's comfortable with and some place he'd probably go to when times get hard for him."
Derak Palomares hopes the law will catch up to Brown. His mother lost her battle with cancer in 2007 and never lived to see that happen. He still believes that day will come.
"For Jason Derek Brown to get caught, it would help my brother rest in peace and it would bring a lot of ease to my family," Palomares said.
Brown has been featured on American's Most Wanted. Authorities say the case has generated more tips than any other fugitive profiled on that show.
The FBI is offering a reward up to $100,000 for information leading to Brown's arrest.
E-mail: syi@ksl.com
×
Related links
Most recent Utah stories