Estimated read time: 2-3 minutes
This archived news story is available only for your personal, non-commercial use. Information in the story may be outdated or superseded by additional information. Reading or replaying the story in its archived form does not constitute a republication of the story.
Samantha Hayes reportingThis was a big day for Utah businesses and post-Christmas sales. Some stores offered 50- to 60-percent off some merchandise.
Owners hope people, many exchanging gifts or using gift cards, will help put a strong end to their financial holiday season.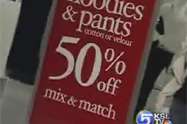 Shoppers braved bad weather tonight to make those returns and purchases. If you can stand the thought of stores and standing in line, the sales are good. And savings are important this year, when interest rates and heating costs are adding the that January bill.
Baby, this year it's cold and wet outside. But if the rain and snow can't stop Santa, it can't stop shoppers looking for sales, either.
Michael Hendersen/ Shopper: "I went to Banana Republic and bought men's dress socks for $3.99."
It adds up.
Chip Jenkins has more in mind than sales. He's ready to ski.
Chip Jenkins/ Skier: "Both are gifts and both need bindings. I just want to get it done."
Yes, even after Christmas, there is more to get done. Returns. Exchanges. It really doesn't end until the bill comes due. And even then, many folks carry Christmas credit charges well into the New Year.
But at the request of federal regulators, credit card companies are raising minimum monthly payments. And you probably already noticed the increase in cost to heat your home.
Todd Johnson/ Shopper: "Our gas bill went up $20 last month."
So while the big sales may be tempting, experts are advising consumers not to spend more on credit cards after Christmas-- a remedy, at least in part, for that holiday financial hangover.
Many local credit unions and banks offer great tips and help in managing your debt. The first is, start paying it off early, even put away a little money each month this year for Christmas, then you don't borrow as much.
×
Most recent Utah stories