Estimated read time: 2-3 minutes
This archived news story is available only for your personal, non-commercial use. Information in the story may be outdated or superseded by additional information. Reading or replaying the story in its archived form does not constitute a republication of the story.
Jed Boal Reporting"We're going to shift the resources of TSA to look at items that are more dangerous, like explosives."
Just in time for one of the busiest travel days of the season, changes in security at US airports. The new passenger screening policy does away with some of the restrictions put in place after 9-11. The changes reflect the security lessons.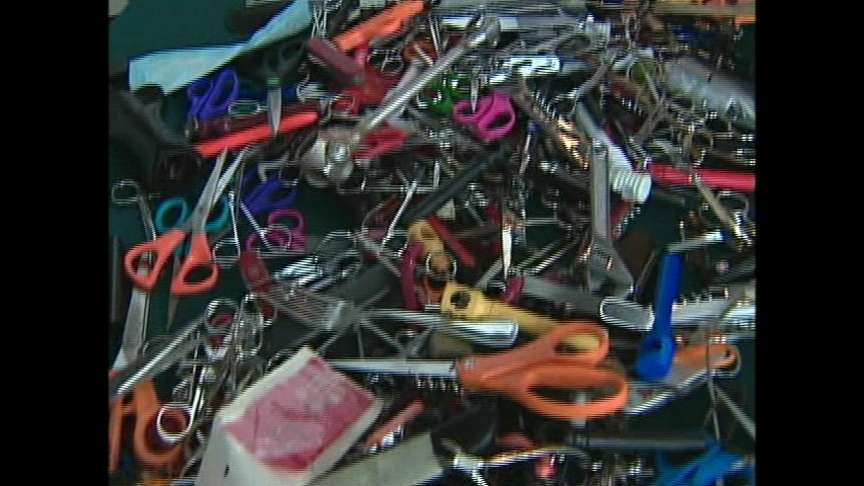 We've all heard jokes about how little damage could be done with a pair of sewing scissors. All joking aside, the scissors and small tools are back on-board, but TSA says security screening remains tight. Small tools and scissors seized in the past are OK in the cabin again as the Transportation Security Administration adjusts its passenger screening policy.
Erin Rogich, Traveler: "I don't think you can take down a plane with a hand-held scissor."
The TSA says screeners will focus on riskier items like explosives and cargo.
Ronald Malin, Deputy Federal Security Director: "There will be additional screening on passengers randomly selected."
More pat-downs and shoe inspections.
Mark Furaus, Traveler: "I saw somebody getting their scissors measured are these too long, and I was aware of that."
Scissors must measure four-inches or less, tools seven inches or less.
Ronald Malin, Deputy Federal Security Director: "We're trying also to introduce an element of unpredictability to the screening process so people won't encounter the same thing every time."
TSA promises passengers will not notice a difference.
Nancy Warnick, Traveler: "I came earlier than I intended to, but didn't have any trouble."
Several lawmakers in Washington and flight attendants criticize the change. Passengers don't see why anyone would need such tools on board. But TSA believes the threat has shifted since 9-11. With stronger cockpit doors, federal air marshals, and pilots that are armed, TSA no longer believes a person could take over a plane with a box cutter.
"As long as they can prevent bombs from getting on board, I'm not afraid to fly."
Items still banned include wrapped Christmas presents are not allowed in your luggage. Lighters are also banned. To speed up your security check, make sure laptops and cameras are out of their cases, and keep film in your carry-on. Screening equipment will damage it.
×
Related links
Most recent Utah stories