This archived news story is available only for your personal, non-commercial use. Information in the story may be outdated or superseded by additional information. Reading or replaying the story in its archived form does not constitute a republication of the story.
SALT LAKE CITY -- Ksl.com sat down with TJ Fredette, an up-and-coming New York rapper and brother of BYU's All-American point guard Jimmer Fredette, to talk about life, basketball and Michael Bolton.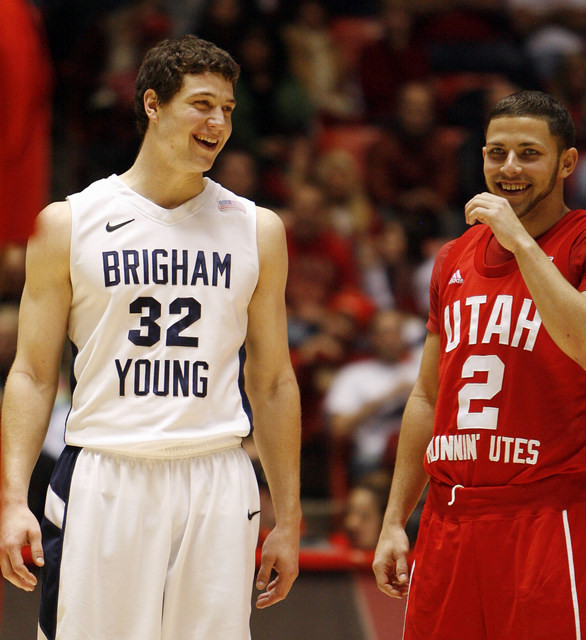 ksl.com: Describe the first time Jimmer beat you on the court.
TJ Fredette: "It was probably when he was a senior in high school. We'd always play pick up. He was driving to the basket on me. I had him cut off and feeling confident. He gave me a hard step and he pulled that hard crossover on me. I kept going and he hit a jump shot. He didn't beat me every time after that, until about the time he was a sophomore in college. I was 24, so I was in my prime."
Tell us about your favorite moment from playing prison ball with Jimmer.
"First time he went in, he was a senior in high school, and he had 40 points on them. He had a nice dunk -- two hands, the place went nuts. That was the most special moment, that two-hand dunk."
At what moment did you know Jimmer was going to be great?
"Goes back to when he was 4 years old and he was the most competitive kid. He could will himself to do things, things that he shouldn't be able to do, but was because he wanted to win so bad. At 4 he was competing with kids five, six years older than him and he was hitting shots from everywhere. I'm not surprised (when I see him hit 30-foot jump shots). I've seen that before. That's why when he makes them he has that look on his face; he's been hitting those all his life."
What current NBA player does Jimmer most remind you of?
Related:
"It'd probably be a mix between Steve Nash and Deron Williams. He's built like Williams, big and can find his way to the basket. He's quick and is a good shooter like Nash, has vision and a basketball IQ like Nash. I'd say more like Williams, though. He's not there yet, but he's on his way."
"Lead singer of White Snake is tempting -- rock bands were huge in the mid-'80s. I'd have to say basketball star. That's what I always wanted -- that is what I worked for. But I fell short, but now I can live that through Jimmer."

Who are your musical inspirations? And where does Michael Bolton fit in?
"Michael Bolton's not too high. In third or fourth grade I heard Kris Kross. Eminem for obvious reasons. Nas, Mob Deep, Wu-Tang... a lot of East Coast influence."

Guiltiest pleasure on your iPod?
"Eminem can be pretty raw. I wouldn't want my mom to hear it. Any girl with a good voice, I'll probably have that. But any of that kind of music comes from Jimmer."
How would you feel about your music career if I heard you on Radio Disney?
"I'm not sure. I guess it would depend on what I was trying to accomplish. A lot of people started there... Justin Timberlake, Christina Aguilera. I don't think it wouldn't hurt me too much."
**Multiple choice: If you met Justin Beiber on the street, what would you do?

Ask for his autograph and snap a photo with your iPhone
Introduce yourself as a rising rap star
Point and snicker
Punch him in the throat
Ignore him**
"I'm not sure I would recognize him, but if someone pointed him out I'd probably tell him I was a rapper. He probably knows everybody, so I'm not ashamed to use that." 8. Vanilla Ice?
"I have nothing against him, but I think he set white rappers back 10-15 years. I think it was because of the image and gimmick they created. Snow was a one-hit wonder, so not a lot of people knew about him, so I don't think he helped or hurt."
×