Estimated read time: 2-3 minutes
This archived news story is available only for your personal, non-commercial use. Information in the story may be outdated or superseded by additional information. Reading or replaying the story in its archived form does not constitute a republication of the story.
Alex Cabrero reporting A local musician was signing the latest copy of her CD this afternoon.
Although her music is soothing and enlightening, it was created as a result from the darkest moment of her life.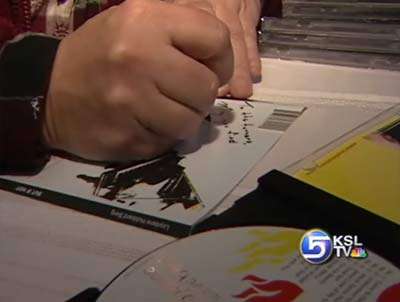 If music is truly about feelings and emotions, it's surprising Loydene Berg only has two CD's.
Loydene Berg, Songwriter: "My experience with music growing up was playing for my church."
Some of her fans came to Val's Flowers in Morgan to get an autographed copy of her latest CD.
It's been five years in the making, but if Berg had it her way, it never would've been made at all.
Loydene Berg, Songwriter: "We were in a safe place having a birthday party, having fun with our family, and just all of a sudden... Such a change. The whole world changed that day for our family."
That day was April 27th 2000. Berg and her family had just finished eating at Chevy's Restaurant in Sandy when a man went on a shooting rampage.
He shot and killed her husband, Peter Berg, while asking for his car keys.
Loydene Berg, Songwriter: "Never in my wildest nightmares had I imagined something like that happening to our family."
Berg was buried in Mountain Green where the family lives.
Loydene then began to write.
Loydene Berg, Songwriter: "When he was killed, I think... I don't know how I can explain except... I felt so different, so alien. The world had just changed for me."
The music has helped the family. Of course, there's no way to ever get over something like this, but they're doing okay now, just like the music sounds.
Loydene Berg, Songwriter: "I can't put a price on it, but it definitely helps me."
Berg says her family has been blessed though, with the birth of her first grandson last year.
×
Most recent Utah stories