Estimated read time: 1-2 minutes
This archived news story is available only for your personal, non-commercial use. Information in the story may be outdated or superseded by additional information. Reading or replaying the story in its archived form does not constitute a republication of the story.
Gene Kennedy reportingA Murray man is busted for running a possible meth lab.
Drug agents are at the home right now collecting evidence.
DEA agents have been at the home since 8 a.m. Friday morning. The residence had been under investigation for some time.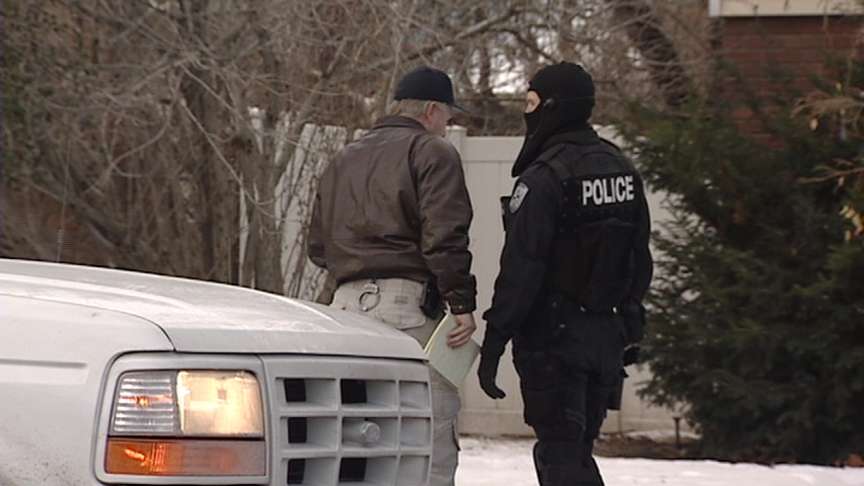 SWAT served a search warrant, but when officers went into the home located near 300 East 5400 South, there was no one inside.
Officers then proceeded to the backyard, having received information that someone was hiding in a shed. They knocked on the door and there was no response.
There were three locks on the shed, so police fired a shotgun with a special non-lethal round to break the locks. In the process, shrapnel injured a 38 year-old suspect inside. Police took the suspect to the hospital, then the drug discovery.
Det. Rob Hall, Murray Police Dept.: "It doesn't appear to be a large-scale type meth lab but there are components used to make meth back there. We're treating it as a lab at this point, taking the necessary precautions."
Police say the suspect suffered only minor injuries: Some cuts to the face and hand. He is 38-years-old, either the son of the homeowners or a relative. Neighbors say the man comes and goes quietly.
The homeowners will not be charged because police say they did not know this was going on and were out of town.
×
Most recent Utah stories