This archived news story is available only for your personal, non-commercial use. Information in the story may be outdated or superseded by additional information. Reading or replaying the story in its archived form does not constitute a republication of the story.
SALT LAKE CITY -- A new Utah Policy poll shows Sen. Orrin Hatch, R-Utah, could be fighting off Republicans and Democrats in 2012.
University of Utah political scientist Tim Chambless says Hatch will fight an uphill battle because of age, health and distrust of incumbents.
"There is a possibility that Senator Hatch, the incumbent, would be challenged from within his own party and would be vulnerable to the same fate as Senator Bob Bennett," Chambless said.
When Hatch is put up against possible Republican challengers he falls behind both former governor John Huntsman, Jr. and Rep. Jason Chaffetz, R-Utah:
48 percent support Huntsman, who hasn't said what his plans are for the 2012 election
23 percent support Chaffetz, who has hinted he might run
21 percent support Hatch, who says he's definitely running again
7 percent said they favor someone else
1 percent said they don't know
Hatch is not surprised by those numbers, nor is he worried about Huntsman.
"He's a superstar here, and probably rightly so, and he's a very fine fellow," Hatch said Monday. "But when people start to look at what you do back there, and who can do it, I'll be alright."
"It's an interesting poll for a hypothetical election," e-mailed Lisa Roskelley, Huntsman's former spokeswoman. "Utahns' continued support of Huntsman is reflective of the great job he did as governor."
"The only poll that will matter is of Utah state delegates in May of 2012," Chaffetz said.
Huntsman is currently the U.S. ambassador to China, but he recently hinted in a Newsweek interview that he might consider a run for president in 2012.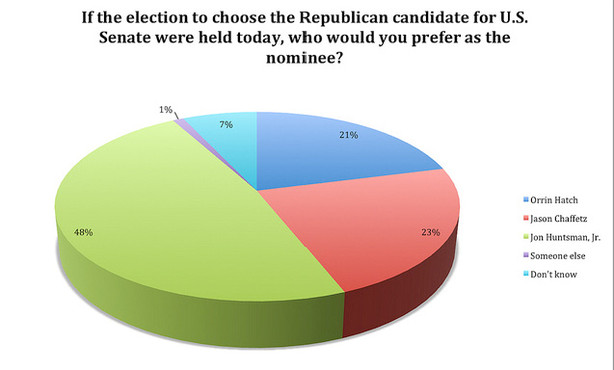 Many political observers believe a 2012 Huntsman run for president might be tough sledding given the long-term planning, fundraising and travel involved.
"I would perceive that if Jon Huntsman is a candidate in 2012, it will not be for president," Chambless said. "But it potentially could be for U.S. Senate."
The Utah Policy poll also has some interesting numbers on a hypothetical Hatch race against Democratic Congressman Jim Matheson in the general election, with Hatch winning by a 48 percent to 41 percent margin.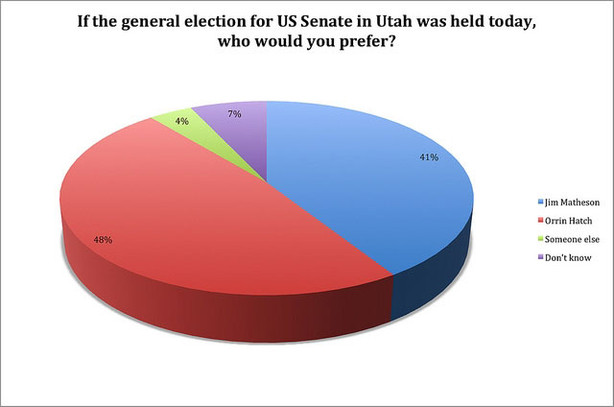 But Chaffetz questioned the poll, the results of which were distributed by Bryan Schott of Utah Policy and the Exoro Group. Schott is also the communications director for the Utah State Senate Democrats.
"It puts the whole thing in doubt," Chaffetz said, who added that he questions "the methodology and the conflict of interest."
Schott said the poll was done by Dan Jones and Associates, which was hired by Utah Policy/Exoro Group.
"I didn't conduct this," Schott said.
The poll was conducted among 504 eligible voters and has a margin of error of plus or minus 4.5 percent.
-----
Story written by John Daley, with contributions from Logan Daniels.
×
Related Stories