Estimated read time: 2-3 minutes
This archived news story is available only for your personal, non-commercial use. Information in the story may be outdated or superseded by additional information. Reading or replaying the story in its archived form does not constitute a republication of the story.
Ed Yeates ReportingA booster to "re-protect" against chicken pox is becoming more apparent now as more kids are getting it even though they've supposedly been immunized.
Two 8-year-old kids are playing the game "Sorry." They are sorry they got chicken pox, but happy they didn't get really sick.
Braxten Pardoe is still recovering. The pox sores are visible, especially on his back. He says, "I just got out of the pool, and my mom saw them."
Braxten is among 15 to 20 percent of the kids who are getting chicken pox even though they were vaccinated.
Braxten was supposedly immunized four years ago. Braxten's mom, Tiffany Pardoe, says, "I originally didn't want to get them vaccinated against it because I wanted them to just get it normally and build up their immunization on their own. But when it was required, and they hadn't had chicken pox yet, we decided we had better get them their immunizations. But it didn't help."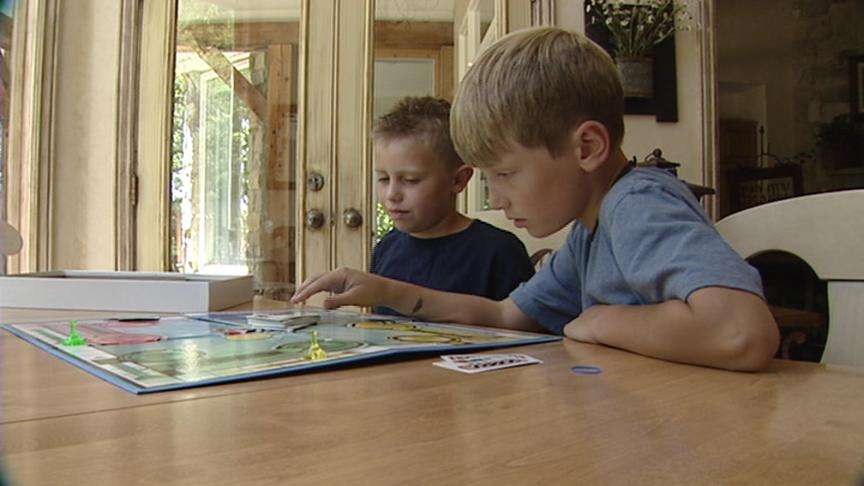 The vaccine didn't fully protect him, but the sickness he did get was mild.
Not more than seven or eight houses away, another boy, Dylen Kirkland, also got chicken pox. He was vaccinated seven years ago. Dylen says, "It was itchy. I didn't feel so well when I had it." Dylen's mother, Susan, says, "When he had a rash, chicken pox didn't cross my mind or my husband's. So yeah, we were surprised. We didn't expect they would get chicken pox."
Braxten's sister Maycee, who is now 2 years old, was vaccinated when she was a year and a half. She came down with the pox a week later. Tiffany says, "I've talked to other people whose 8-year-olds have gotten it, and their siblings have gotten it."
So kids need the vaccine, which is mandatory, plus a booster.
The vaccine apparently is also useful as a prophylaxis, if given three to five days after exposure to chicken pox.
For more information on chicken pox, go to the related link on the right.
×
Related links
Most recent Utah stories