Estimated read time: 2-3 minutes
This archived news story is available only for your personal, non-commercial use. Information in the story may be outdated or superseded by additional information. Reading or replaying the story in its archived form does not constitute a republication of the story.
Jed Boal Reporting Flight school starts this week on Temple Square. While that sounds odd, that's exactly what will happen when a famous pair of birds urges their babies from the nest.
A family of Peregrine Falcons has made a home at the Joseph Smith Memorial Building for most of the past 23 years with only an eight year interruption. This year there are four youngsters to send out into the world.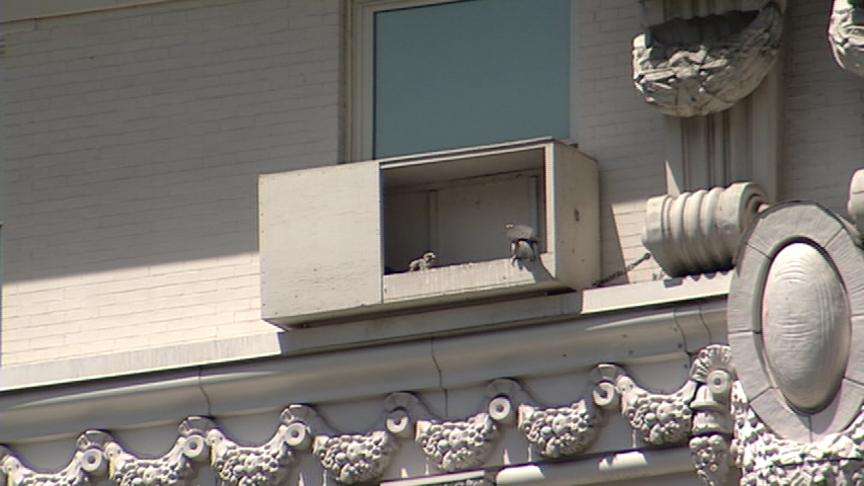 Peregrine falcons are the fastest birds in the world, but when they're not airborne they can perch and preen for hours. Mom and dad will soon teach the fledgling falcons how to fly and hunt for themselves. Bob Walters the Watchable Wildlife Coordinator for the DWR has followed falcons on Temple Square for more than 20 years.
DWR Watchable Wildlife Coordinator Bob Walters says, "My prediction was Thursday. They're going to earn their wings and make that first flight out of the box."
The moment of truth will be captured on the Peregrine Falcon Web camera in their nesting box. Any day, the young falcons will step off the ledge and plummet towards Temple Square below and ideally stretch their wings and fly.
Bob Walters says, "We either rescue them or if they safely get to a perch just continue to watch and with time handle them if we have to but otherwise step back and let them utilize their wings and fly like falcons."
Walters points out that it can be many hours of boredom, interspersed with a few moments of exhilaration when you actually see the birds move. We spent about 45 minutes before we saw the adults flying toward the box.
The proud raptor parents hatched four young peregrines called eyeases, and that's a crowded flight school. When the thrills and spills start from high above the ground, Walters and volunteers on Peregrine Flight Patrol will scramble around and try to save the eyeases from collisions with cars, hard landings and close encounters with glass buildings. Walters says, "There's no predicting whether there's going to be a problem with wires, glass or motor vehicles; they could go almost anywhere."
You'll see signs out here to stay alert on the road. The best time to watch the birds is dawn and dusk, but the activity is very unpredictable; binoculars make a big difference. You can see the Falcon Web cam by clicking the link at the right of your screen.
×
Related links
Most recent Utah stories