Estimated read time: 2-3 minutes
This archived news story is available only for your personal, non-commercial use. Information in the story may be outdated or superseded by additional information. Reading or replaying the story in its archived form does not constitute a republication of the story.
Coco Warner ReportingA book titled "Christmas Jars" is inspiring Utah families to start a new holiday tradition. The story follows a woman who receives a jar full of money one Christmas from an anonymous source; now that story is changing Christmas for one Provo family.
Jason Wright, "Christmas Jars": "You put it in a jar, each and every day, never bills just change, and at the end of the day it accumulates, at the end of the month it accumulates, and Christmas morning, hopefully you have a jar full of change."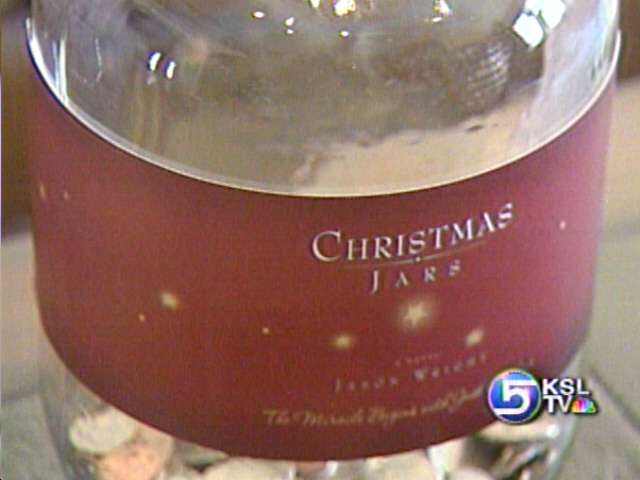 Who knows when and who knows who gave the first Christmas Jar-- an anonymous donation given to someone in need. Virginia author Jason Wright heard about the tradition a few years ago and his family decided to try it.
Jason Wright: "As we experienced it during the month of December one year ago, I decided to fictionalize it."
And the Jensen family is glad he did.
What initially inspired the Jensen family to purchase the book is the main character's name, Hope.
Kib Jensen: "My oldest daughter's name is Stephanie Hope Jensen, and I love to read and I have a lot of books and as I was looking for a good Christmas book to buy. I saw that the main character's name in that story was Hope Jensen."
Kib was so touched by the story he shared it with his family and has given the book to several neighbors. He also started his own Christmas Jar.
Kib Jensen: "Every day you want to get change when you buy something so you can put it in your Christmas jar. And so it's like the spirit of Christmas is with you all year long."
Stephanie Jensen: "I thought it was like probably the best Christmas book I'd ever read."
The book's message has inspired the whole family. 15-year old Stephanie posted a book report on "Christmas Jars" on the internet.
Stephanie Jensen: "I had a response, not on here but somebody in person was, 'wow, that book sounds really good. Where can I get it?'"
Which is good news for the author.
Jason Wright, "Christmas Jars": "It is so humbling and gratifying to hear people saying they're reading the book, they're getting the message, the spirit of the jar is sort of taking hold of them and their families."
Author Jason Wright says any tradition that promotes giving this holiday season is great. This is just one that works for his family. You can find the novel at Deseret Book stores.
×
Related links
Most recent Utah stories