Estimated read time: 2-3 minutes
This archived news story is available only for your personal, non-commercial use. Information in the story may be outdated or superseded by additional information. Reading or replaying the story in its archived form does not constitute a republication of the story.
Sandra Yi ReportingA surveillance tape has given investigators a new lead in a fatal hit-and-run incident two weeks ago. Now police are asking for help in identifying a damaged pick-up truck on the tape.
Mike Anderson: "The important thing for us right now is to determine who the vehicle belongs to, who the driver of that vehicle was."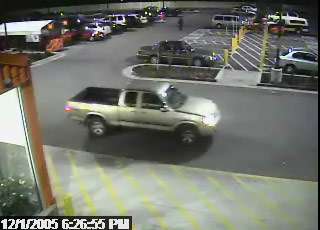 The hit and run happened on the evening of December 1st. It killed a man as he crossed Highland Drive near 34th South. It has been a frustrating case for investigators with few leads, but a truck seen at Home Depot, minutes after the hit and run, may provide some answers.
Mike Anderson: "The thing is, somebody knows something about this."
But who did it and why is still a mystery. The investigation has reached a dead end.
Mike Anderson: "We do have a family, though, that is grieving and that is looking for some closure. We would like to provide that closure for this family."
Investigators' best lead comes from surveillance video taken outside the Home Depot store near the crash scene.
Mike Anderson: "The time frame of this video is within five minutes of our office being dispatched on this crash."
The driver of the pick-up truck could be a potential suspect. Store security noticed suspicious behavior.
Mike Anderson: "The information we have from the Home Depot is that the passenger exits the vehicle, looks at the front end damage, gives a gesture, like holding his head, kind of in disbelief, and then he goes around to the driver's side, enters the vehicle, then leaves."
The video shows damage to the truck's front end.
Mike Anderson: "It's the kind of damage you would see with a pedestrian strike."
The victim, 80-year old Robert Elbel was hit and killed December 1st as he crossed the street. He had just gotten off a bus and was headed home. Elbel had a passion for studying insects. He was a researcher at the University of Utah and a beloved family man.
Eyewitness News talked to his grieving widow earlier this week. She shared her feelings for the driver.
Lyda Elbel, Victim's Wife, Monday: "I think he should be put to sleep for killing my husband."
Mike Anderson: "Someone's life has been taken. We have a family that needs closure."
Elbel was not in a crosswalk. Still, the driver of the car could face serious charges.
Again, investigators are looking for a mid-sized pick up truck. It's light-colored, possibly gold. If you have any information, call the Salt Lake County Sheriff's Office at 743-7000.
×
Related links
Most recent Utah stories