Estimated read time: 1-2 minutes
This archived news story is available only for your personal, non-commercial use. Information in the story may be outdated or superseded by additional information. Reading or replaying the story in its archived form does not constitute a republication of the story.
John Daley reportingOne of Utah's most ambitious renewable energy projects is nearly up and running. The question now: is it a preview of brighter days ahead?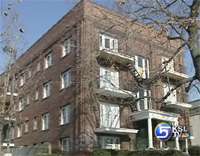 The 30-unit Ritz Apartments at 435 E. South Temple in Salt Lake were built in 1924. The building might seem to be an unlikely candidate for alternative power, but look closer. On the roof you can see an array of solar panels.
Developer Ben Logue is spending 250-thousand dollars to install 31-thousand watts of photovoltaic solar panels. It'll provide most of the electricity for the entire building.
This project comes at a time when renewables, like solar, wind and geothermal, are getting cheaper and much more competitive with traditional sources, like coal and natural gas.
Ben Logue/ Developer: "I believe in solar, renewable energy. I want to be a pioneer. People have to put these installations in for the costs to come down. You have to show people that it's going to work."
Steven Bishop/ Solar Electrical Contractor: "Two years ago this type of work was five percent of my volume. Right now it's 90 percent."
Sarah Wright/ Utah Clean Energy, Executive Director: "This is exciting to see this project in Salt Lake City. It's in a historic building. The developer has been very creative in financing. It's a low income project, so it's going to help cut the electrical bills of the residents in the building. It's fantastic."
Dr. Laura Nelson/ State Energy Policy Advisor: "I think that a lot of people don't understand what the potential is. They don't understand the opportunities. And seeing that other people are out here doing it is tremendous."
They expect to have the system running within the next week.
×
Most recent Utah stories