Estimated read time: 1-2 minutes
This archived news story is available only for your personal, non-commercial use. Information in the story may be outdated or superseded by additional information. Reading or replaying the story in its archived form does not constitute a republication of the story.
Amanda Butterfield ReportingA Bountiful musician was laid to rest today. He played and taught an instrument not usually associated with Utah, but because of him, that's changing.
Dave Phillips, Friend/Student: "He's played at thousand of weddings and funerals."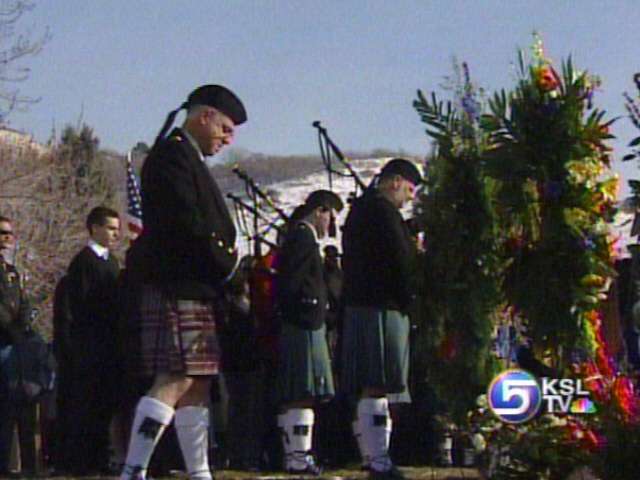 Several of these pipers are in a band Barclay formed. And for those who aren't, they've still heard of him.
Dave Phillips: "I don't think there's a person in the state of Utah that wouldn't know him and associate him with bagpipes."
Barclay's love of bagpipes was a family tradition.
Shelia Price, Friend: "He learned when he was seven-years old, he learned from his grandfather from Scotland."
A tradition he passed on to his grandson and friends.
Jeremy Barclay, Grandson: "He was at my house everyday after school from the time i was 8 years old."
Dave Phillips: "He taught me to play the pipes."
A tradition he passed on whether he meant to or not.
Shelia Price: "Living next door we heard the pipes day and night, and that was a great opportunity for us."
Today in Bountiful there was no better way to lay Barclay to rest then surrounded by his passion.
"He loved to pipe, that was his life dream to pipe."
"He's a legend, people will talk about him for a long time after."
And his music also will be heard for a long time after. Barclay helped form the Utah Scottish Association, and at one time was it's president.
×
Most recent Utah stories