Estimated read time: 3-4 minutes
This archived news story is available only for your personal, non-commercial use. Information in the story may be outdated or superseded by additional information. Reading or replaying the story in its archived form does not constitute a republication of the story.
HIGHLAND — The Lopers' Christmas trip to Utah County took an unexpected turn the morning of Monday, Dec. 20.
Traveling east on Interstate 80 about 13 miles outside Elko, Nev., the family's Ford Excursion hit a patch of black ice and slid off the road and rolled multiple times down steep embankment, landing on its top.
"I knew no one would see us down there. I was worried my husband was dying," Marlece Loper said in a Christmas Eve interview. To compound her anxiety, her 8-year-old son's leg was trapped.
"I crawled up the hillside but I only got about halfway up. Then, it felt like someone was pushing me up the hill. It literally felt like there were hands on my butt pushing me," she said.
Once she reached the interstate, Loper attempted to flag down a motorist. By then, her eye had swollen shut from her injuries. Her hair and clothing were coated in blood.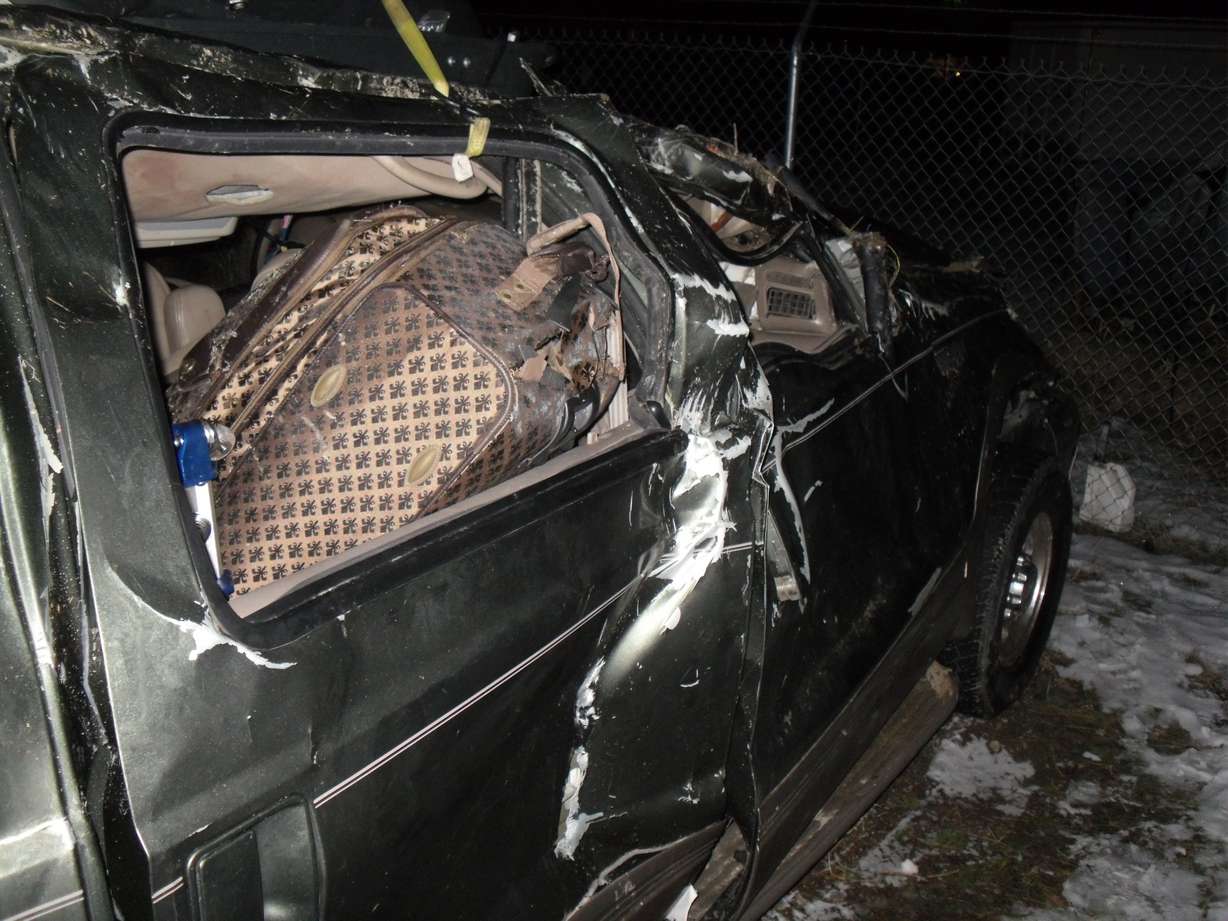 Still, 20 vehicles passed her before a group of miners on their way to work stopped to help.
"They asked me, 'Is anyone alive? How are we going to get down there?' Then they asked, 'How did you get up here?'" she said.
It was an apt question considering it was 19 degrees and there was 6 inches of snow on the ground.
Trooper Jimmy Stewart, public information officer for the Elko office of the Nevada Highway Patrol, confirmed that the vehicle landed in a spot not visible from the interstate.
"The mom scrambled up the hill, flagged down some motorists," he said.
As it turned out, Loper could not have happened upon better help. The men had rescue training and they assisted emergency medical personnel that responded to the accident.
Trooper Stewart said rescue workers used a pulley system to lift the injured to the interstate. The miners assisted with the rescue, he said.
Loper's husband, Ryan, suffered a concussion and some broken ribs. Her son Elijah, 8, had some tissue damage to his leg but most of their injuries were minor. All were wearing seat belts.
The miners, Loper said, went so far as to help round up the Lopers' nine Yorkshire terrier dogs, five of them puppies, that had had been riding in an animal crate. One of the puppies suffered a broken leg but the rest were uninjured.
As the group waited for emergency medical services, the miners took off their overcoats and covered the Lopers, their two children and 4-year-old nephew until help arrived.
Ryan Loper was sent to the hospital by medical helicopter. The rest were transported by ambulance. The miners accompanied them to the hospital.
As the Lopers, from Modesto, Calif., spend the holiday with Marlece's sister in Highland, they have had time to contemplate the ordeal.
"This was the will of the Lord, the work of angels. Whatever this is, it is definitely a miracle. Those men were His workers," she said.
When the miners learned that Ryan Loper's wallet was lost during the accident, they pooled bonuses given to them by their bosses at Newmont Mining Co. for assisting with the accident and gave the money to the family, Loper said. She said the miners' boss also contributed to the family.
"I owe everything to them — everything, because no one else would stop," Loper said.
The men, she said, would not give the family their names.
"They were amazing men, truly amazing. They were all trained in rescue. Some of them are (safety) trainers at the mine. They're just men of character," she said.
The family plans a quiet Christmas in Utah County while recovering from their injuries. Mostly, Loper said, they are grateful to be alive, relatively uninjured and thankful for the help of a group of men whose names they do not know.
"It was not by chance, that's for sure. Those men were on their way to work, yes, but they were definitely sent there at that time for a reason."
Story compiled with contributions from Sarah Dallof and Marjorie Cortez.
×
Photos
Most recent Utah stories