Estimated read time: 2-3 minutes
This archived news story is available only for your personal, non-commercial use. Information in the story may be outdated or superseded by additional information. Reading or replaying the story in its archived form does not constitute a republication of the story.
John Daley ReportingState road builders admit they miscalculated some aging asphalt in Parley's Canyon. A lot of motorists who've been stuck in traffic on I-80 have been wondering what caused the potholes now. UDOT says it all comes down to timing and weather.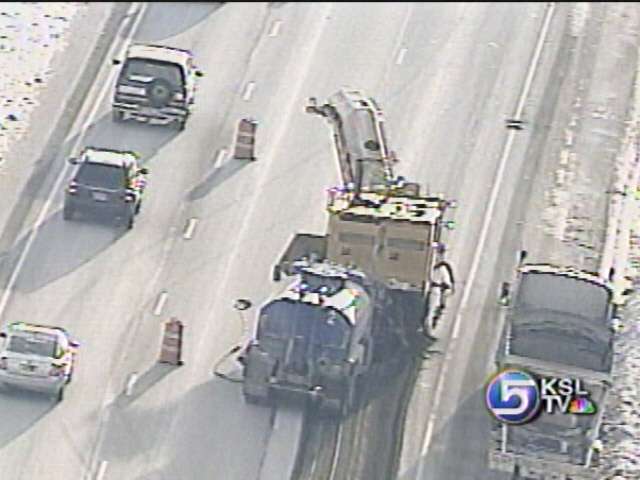 Over the past couple of weeks Parleys Canyon turned into Pothole Canyon. As UDOT crews scrambled to fix it, traffic congestion turned into traffic frustration.
Joey Nichols, Driver: "This is as bad as I've ever seen it up here."
Brian Hardy, Driver: "I drive it every morning and I think they need to do it. It sucks that the traffic is so bad, but they definitely need to do it."
A hundred or so potholes recently opened up. I-80 in Parleys had not been repaved since 1998. UDOT says road work by sub-contractor Staker Construction began as soon as possible in the construction season in September.
Nile Easton, UDOT Spokesman: "The whole process to bring a contractor on board can take three, four months. So as soon as that contractor was on board he started right away hoping to get that third lane in and we didn't have time."
Crews finished the left and center lanes. UDOT says the weather got too cold before the outside lanes could be finished, but engineers thought it would hold up.
Nile Easton: "We'd planned to do the last lane in spring actually. We'd hoped we might be able to get it done in the fall. The last couple of falls we had warm weather clear into November. This year that didn't happen."
Our weather team found this fall was milder than usual, seemingly ideal for road work.
Len Randolph, Eyewitness News Meteorologist: "Bottom line, warmer than normal fall, drier than normal fall, frost came a month late."
The total cost of the project is 2.5 million dollars. Two new contractors are joining the original construction company to help make repairs more quickly, additional cost to taxpayers about $50,000.
Reporter: "As far as you know, you haven't uncovered any problems with the contractor, or the materials, the road materials are all up to snuff?"
Nile Easton: "Yeah, everything was fine."
UDOT says the road work will be done no later than the end of next week. Then road crews will come back in the spring and re-pave the section that they're grinding down now.
Here's the latest on Interstate 80 and the lane restrictions tomorrow in Parley's Canyon.
Eastbound traffic is shut down to one lane, until 12:30 in the afternoon. Then two lanes open up. After 3:00 ALL will be open. That's eastbound.
UDOT won't be working on these lanes during the weekend and expect to finish Monday at the latest.
There's more trouble in the westbound lanes. From 8:30 to 4:00 tomorrow through Sunday drivers will only have one lane open. Next week two lanes will be driveable.
Bottom line, expect long delays if you're coming up or down the canyon.
×
Most recent Utah stories