Estimated read time: 2-3 minutes
This archived news story is available only for your personal, non-commercial use. Information in the story may be outdated or superseded by additional information. Reading or replaying the story in its archived form does not constitute a republication of the story.
Ed Yeates Reporting If you've had to evacuate a TRAX train in the past several weeks, it was necessary to literally get the light rail vehicles up and running again. I was one of many who's had that experience recently. I was surprised when an operator asked me and everybody else standing in one of the joined cars to step off the train. I really didn't know why until I got outside.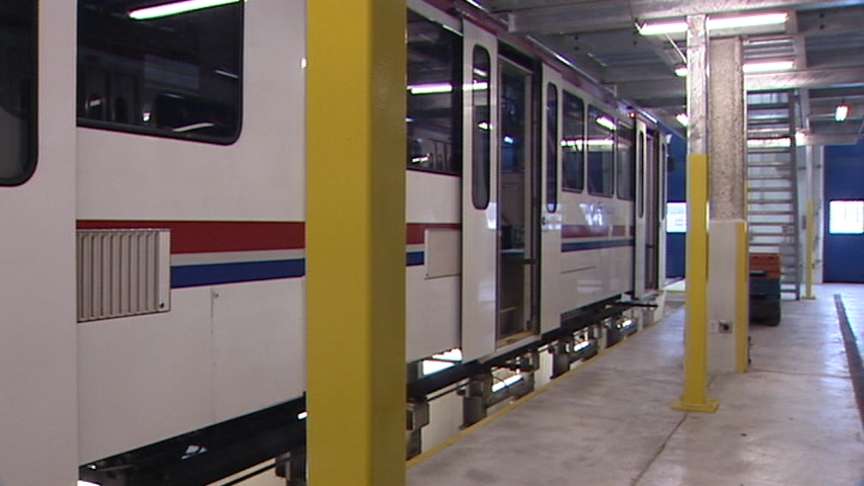 Many cars we were riding were here at the TRAX maintenance barn over the weekend and there are few more coming in this week. Here's the problem. As the trains pull into stations, the opening doors jam on the concrete platform. If the doors don't close, the train cannot operate.
Door problems on TRAX trains are not new, but this latest wrinkle is unusual. It's happening because the trains have become too popular with too many people on board. The weight lowers the older coaches ever so slightly, but just enough so that at some stations - not all - a few of the doors rub the platform and won't close.
Paul O'Brien: "The bright side of this is if we didn't have this kind of ridership, we wouldn't be looking at this type of door challenge."
Challenge it is! Over the weekend crews were adjusting the overall tolerance on the cars - stiffening them up, if you will, so they ride a little higher. O'Brien says he would much rather raise the trains a bit for more door clearance than discourage high ridership, an enviable success story transit systems in other parts of the country wished they had.
Paul O'Brien: "It's a lot easier to correct the doors and roundup people and encourage them to ride."
Doors on light rail trains have to remain within inches of the platform so riders don't have to step up too much to get on the train.
O'Brien says it will get even better with new trains UTA plans to purchase several years from now. Those new cars will have lower interior floors so you can step from the platform to the train all on one level.
×
Most recent Utah stories