Estimated read time: 3-4 minutes
This archived news story is available only for your personal, non-commercial use. Information in the story may be outdated or superseded by additional information. Reading or replaying the story in its archived form does not constitute a republication of the story.
SALT LAKE CITY -- Many Utahns have had to brush up on a rarely-used skill lately: driving in thick fog. And some drivers have wondered, "Why can't they light up the highways better to make them safer?"
The answer is, they have, but it doesn't do a lot of good in fog. There is no magic formula or silver bullet to solve the age-old difficulty of navigating in fog.
For ships, foghorns are a big help. For cars, brighter, more uniform lighting helps, according to some experts, but not a lot.
"There's no lighting that's been known, that I've ever read about, that helps in foggy conditions," said UDOT lighting engineer Richard Hibbard.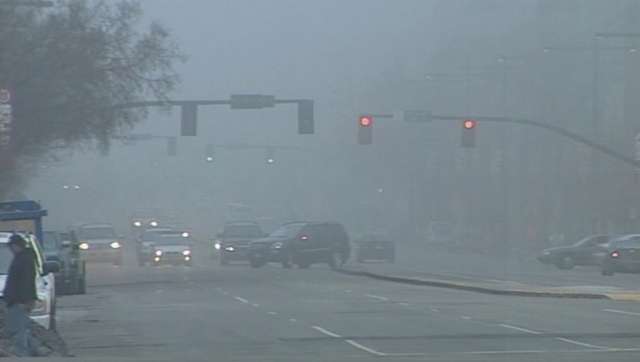 UDOT has been steadily improving the lighting along Utah freeways in recent years. As sections of freeway are rebuilt, UDOT installs so-called "high mast" lighting. That system uses bright, 1,000-watt fixtures mounted on poles 75 to 120 feet above the ground.
"And when you have that type of light mounted at that height," Hibbard said, "you get this really great uniformity."
The high mast lighting is along much of Interstate 15 in the Salt Lake valley. It's used particularly at interchanges, on- and off-ramps, and other places UDOT calls "conflict points" where streams of traffic are forced to merge.
"The high mast gives you that uniform lighting and you can really see well," Hibbard said. "I noticed that when I was out driving in the last snow storm, that the lighting coming up I-15 was really quite good."
But those beneficial lighting effects are less apparent when it comes to dense fog. Visibility last weekend dropped to just a few hundred feet. Many drivers experienced a frustrating phenomenon that experts are familiar with: A driver's own headlights make the problem worse by scattering light in front of the vehicle, according to Ronald Gibbons, director of the Center for Infrastructure-based Safety Systems at the Virginia Tech Transportation Institute.
High mast lights do help, at least somewhat, Gibbons said, particularly because they reduce glare from the lights themselves. One of the primary advantages of high mast lighting is that the bright light source is located high above a driver's field of view and not shining directly into drivers' eyes.
"No lighting is really optimal in a foggy condition or a snowy condition because of light scatter," Gibbons said. "But high-mast is a good way to go if you are trying to really control or get an even illumination through a weather system."
Gibbons said he thinks there's an improvement with high mast lighting, but is the improvement measurable? That's a harder question.
"Certainly I think there's a benefit," Gibbons said. "The best kind of lighting in fog is no lighting, but driving without headlights is impractical and extremely dangerous," Gibbons said. "You don't ever want to turn them off because that would make the vehicle much harder for other drivers to see."
"Turn on your headlights, wipe your windows, turn on your defrost and just be careful of what other people are doing around you," Gibbons suggested.
In general, low-beam headlights work best in fog, Gibbons said, because high-beam headlights scatter too much light.
Gibbons and Hibbard agree the primary responsibility for safety in fog rests with drivers, not with highway lighting experts.
"The bottom line in foggy conditions," Hibbard said, "people just need to slow down and be aware and pay closer attention."
E-mail: hollenhorst@ksl.com
×
Related links
Most recent Utah stories