Estimated read time: 3-4 minutes
This archived news story is available only for your personal, non-commercial use. Information in the story may be outdated or superseded by additional information. Reading or replaying the story in its archived form does not constitute a republication of the story.
SANDY -- A man wanted for allegedly stealing a Canyons School District bus in October has been arrested and charged.
Steven Hardenbrook, 38, was charged Wednesday in 3rd District Court with theft, a second-degree felony, and two counts of criminal mischief for allegedly stealing a bus.
Police also very much suspect Hardenbrook stole a second school bus that same evening from the same lot and lead police on a chase on Interstate 15, sideswiping a Taylorsville police car in the process, and eventually crashing the bus into a tree at 500 N. 1633 West before running off.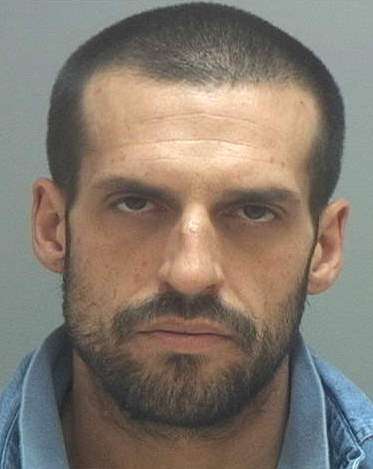 Investigators, however, only had enough evidence this week to charge Hardenbrook with one of the stolen buses, and not for the chase.
On Oct. 14, a man entered the Canyons District bus yard, 173 E. 9300 South, got onto a bus, started it, and moved it about 300 yards across the parking lot, hitting another bus in the process, said Sandy police Sgt. Troy Arnold.
Once he started that bus, two surveillance cameras inside the vehicle automatically turned on, he said. For 20 minutes, they recorded his actions, including the point where he realized the cameras were on and tried to dismantle one of them, Arnold said. The video and still frame photos from the bus were widely shown by the local news media.
It was for that incident that Hardenbrook was charged.
About an hour after getting off that bus, a second bus from the lot was stolen. That was the one that lead police on a chase, Arnold said. Although they didn't have sufficient evidence Saturday for charges relating to the chase, police believe Hardenbrook was also responsible for that crime.
"We believe he was involved in the high-speed chase and subsequent striking of the Taylorsville police vehicle," Arnold said. "We have no idea at this time why he did what he did. He's not cooperating with law enforcement at this time."
Detectives are now looking for anyone who "knows for a fact" that they saw Hardenbrook behind the wheel of the school bus that lead police on the chase on Oct. 14. Anyone with information can call police at 801-568-7200.
Hardenbrook has an extensive criminal history, according to a check of Utah State Court records. Two weeks after the school buses were stolen a warrant was issued for Hardenbrook's arrest in a separate incident.
An arrest warrant was issued for failing to comply with the conditions of his probation for a 2009 aggravated-assault conviction. Adult Probation and Parole found Hardenbrook and booked him into the Salt Lake County Jail on Nov. 15. After he was booked into jail, investigators were able to put together enough evidence to charge him with one of the bus thefts.
In 2003, Hardenbrook was sentenced to up to five years in the Utah State Prison following a conviction on failing to stop at the command of a police officer. Just a few months before that sentence, he was convicted for simple assault in a separate incident and had one count of aggravated assault and one count of threatening someone's life dismissed, according to court records.
Hardenbrook was also convicted in 2002 of failing to stop for a police officer, court records state. He pleaded guilty to two counts of attempted aggravated assault in 2001. Also in 2001, he pleaded guilty in a separate incident to attempted operation of a drug lab.
His criminal history dates back to 1994 and 1995 when he was convicted of battery and criminal mischief, according to court records.
E-mail: preavy@desnews.com
×
Related stories
Most recent Utah stories