Estimated read time: 2-3 minutes
This archived news story is available only for your personal, non-commercial use. Information in the story may be outdated or superseded by additional information. Reading or replaying the story in its archived form does not constitute a republication of the story.
SALT LAKE CITY -- The Salvation Army has been preparing Thanksgiving dinner all week for those who may not be able to get out this year to enjoy the holiday. It's part of the Meals-on-Wheels program.
In the days leading up to the holiday, workers prepared 66 turkeys, 70 pounds of onions and celery for the stuffing, 450 pounds of potatoes, 120 pies and 12 pounds of whipped cream.
---
What this meal says ... is that somebody cares about them, somebody loves them, somebody is interested in them.
–Maj. Richard Greene
---
In the kitchen at the Salvation Army, four men have been hard at work six days a week to prepare for Thanksgiving Day.
Michael Perkins said, "It's just a pleasure to be able to do this. The Salvation Army has done a lot for me and it's just an honor to be able to help in the community."
The Salvation Army will provide hot dinners to approximately 500 people throughout the Salt Lake Valley. It means a lot to the recipients.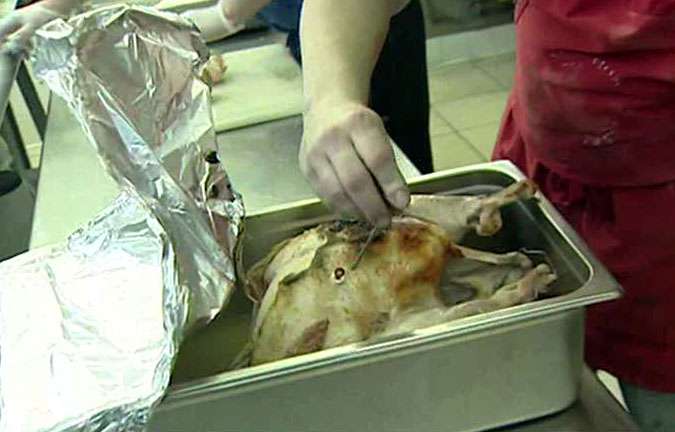 Major Richard Greene of the Salvation Army said, "There're a lot of our shut-ins that are isolated from the rest of the world. What this meal says to them more than anything else is that somebody cares about them, somebody loves them, somebody is interested in them."
The Salvation Army depends on the help of hundreds of volunteers who donate their time each year to make sure these senior citizens have a Thanksgiving meal.
Rosemary Grim has been the volunteer coordinator for 25 years. She says the Salvation Army has received more independent requests this year than in years past, but she's not worried about the workload.
"Wonderful folks come back year after year because it's what Thanksgiving is all about. So they are giving time," she said.
Volunteers will start showing up at 11 a.m. to deliver meals. If you want to help, the Salvation Army says it will put you to work.
Greene says the Salvation Army additionally plans to serve at least 1,200 meals on Sunday to those in need. He also says the Greek Orthodox Church in Salt Lake will serve the area's homeless Thanksgiving meals on Thursday.
------
Story written with contributions from Anne Forester and Nkoyo Iyamba .
×
Related links
Related stories
Most recent Utah stories