Estimated read time: 2-3 minutes
This archived news story is available only for your personal, non-commercial use. Information in the story may be outdated or superseded by additional information. Reading or replaying the story in its archived form does not constitute a republication of the story.
Keith McCord ReportingThis isn't the time of year when people are out working in their yards or gardens, but we found something interesting growing in a Bountiful neighborhood.
It's one of those "double-take" situations. After driving by the house once we turned around and came back. And sure enough, those are Palm trees. You don't usually see Palm trees in the snow. Homeowner Doug Butts says he gets that reaction a lot.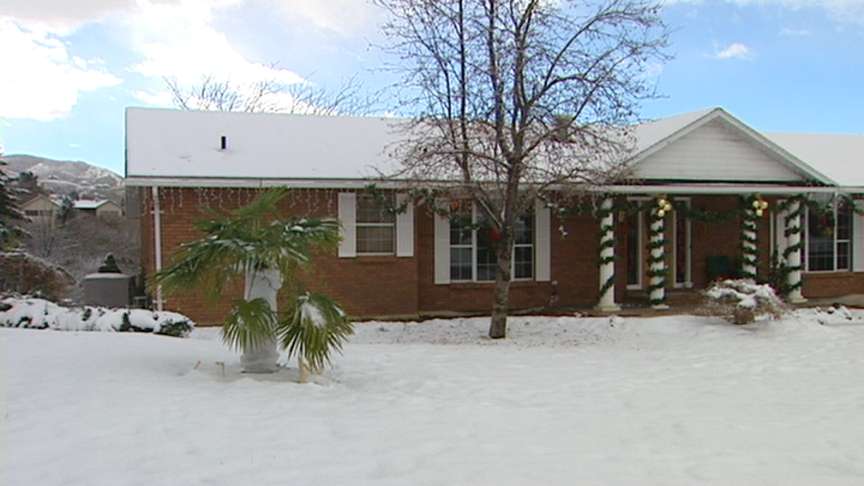 Doug Butts: "We have a lot of people who stop and are looking and pointing. A lot of neighbors are pretty excited, and others are shaking their heads and thinking this won't work out."
Usually we think of Palm trees in Hawaii or Mexico or southern California. But there are a number of species which are "cold hardy" and Doug wanted to give it a try.
You don't just walk into a nursery in Utah and ask for a couple of palm trees. Doug had to go to San Diego and brought them back in a trailer.
Doug Butts: "I picked them up down there in a nursery, and drove them back here and threw them in the ground."
He planted them last May. For the record, one of them is a "Trachy-carpus fortunei" and the other one is a "Butia Capita" or Pinto Palm.
For the winter, Doug's wrapped them up in bubble wrap, and on the inside areChristmas lights to keep them warm. He knows they're staying warm because he's put wireless temperature sensors on the trunk of each tree, which he monitors from a base unit.
Doug Butts: "Right now it's at 39 degrees, at tree one. And then tree two is currently 33 degrees."
Doug Butts says growing Palm trees in winter climates isn't new, it's just not very common.
Doug Butts: "It was just something different, out of the box. People get tired of the same old thing and it's fun to do something different sometimes."
He says if they survive the winter he'll plant a few more. We'll know for sure next spring. By the way, Doug says he's does not have a "green thumb"! He's a computer programmer and doesn't know very much about plants.
×
Most recent Utah stories