Estimated read time: 2-3 minutes
This archived news story is available only for your personal, non-commercial use. Information in the story may be outdated or superseded by additional information. Reading or replaying the story in its archived form does not constitute a republication of the story.
SALT LAKE CITY -- In spite of the cold weather, a nearly naked man staged a protest at the Salt Lake Airport Wednesday. It was part of a small-scale national revolt against full-body scanners and intimate pat-down procedures by airport security.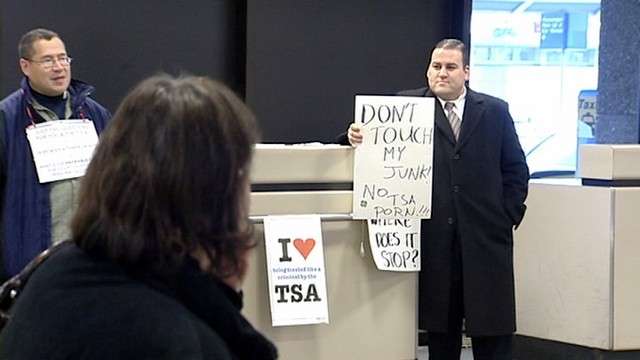 Protest organizers encouraged passengers Wednesday to opt-out of the scanners and slow down the system. There was little noticeable effect on travelers; but some protesters definitely were noticed, just as they hoped.
Flexing and huffing and puffing, with little more than a Speedo and a scarf, one protester made a fuss about airport security.
He said, "It draws attention to the issue in a way. Maybe these people are looking at naked pictures of your wife. How do you feel about that? I'd get really upset if somebody was taking naked pictures of my wife."
Related:
Another Utah man posted a YouTube video was posted Wednesday of himself disrobing in a security line. Others kept their shirts on to protest.
Protester Caleb Christian said, "Against unreasonable searches and seizures. And if patting down 4-year-olds and nuns and whoever else, and autistic children, if that's not scary and that's not unreasonable then what exactly is?"
The protest did not disrupt holiday travel.
Airport spokeswoman Barbara Gann said, "Things are moving smoothly, operating well this morning."
TSA spokesman Dwayne Baird said, "We've had a handful of people that have opted out nationwide, so it's not by any mean picked up any strength or any real movement."
The protest did keep alive a hot button issue -- how to deal with threats of terrorism.
Homeland Security consultant Tom Panuzio said, "And we know that they are real and they could do incredible damage."
He said traditional security procedures will not detect sophisticated explosives now in the hands of al-Qaida.
"The full-body imaging scanners are far more effective, and it's our best option," he said.
Congressman Jason Chaffetz disagrees.
"I think if you would move to a profiling model, profile not based on ethnicity or religion, but based on behavior, followed by having people go through a metal detector and then by a bomb-sniffing dog, you'll be more effective, less invasive, and you'll actually save a lot of money," he said.
On the other hand, Rep. Chaffetz disavowed the protester in the Speedo who carried a sign comparing TSA agents with Nazis. Chaffetz says that comparison is absurd and irresponsible.
------
Story compiled with contributions from John Hollenhorst, Andrews Adams and Anne Forester
×
Photos
Related stories
Most recent Utah stories