Estimated read time: 1-2 minutes
This archived news story is available only for your personal, non-commercial use. Information in the story may be outdated or superseded by additional information. Reading or replaying the story in its archived form does not constitute a republication of the story.
SALT LAKE CITY -- When you're buying holiday gifts for kids, it sometimes seems there are so many toys out there you don't know where to begin.
The manager of the Sugarhouse Toys R Us store, James Cook, broke down the hottest and best-selling toys for different age groups as follows:
Stride to Ride Dinosaur from Fisher Price. Ages 9-24 months. $44.99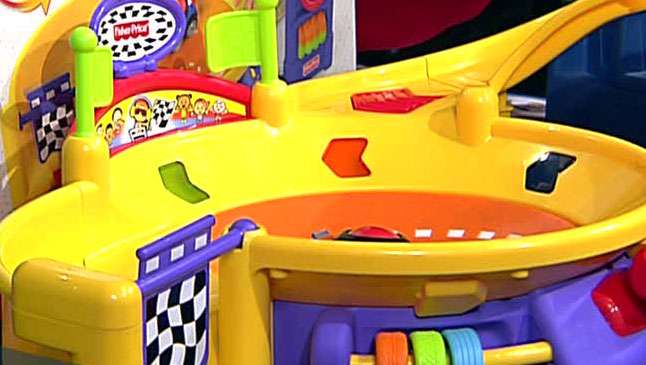 Lil' Zoomers Spinnin' Sounds Speedway from Fisher Price. Ages 2-24 months. $24.99
Disney Pixar "Toy Story 3," Tri-County Landfill from Fisher Price. 3-6 years. $39.99
Monster High Cleo DeNile and Deuce Gorgon doll set. 6-8 years. $34.99
Air Hogs Pocket Copter from Spin Master. 8-10 years. $29.99
Scrabble Flash from Hasbro Games. 8 years and up. $19.49 With Black Friday right around the corner, TimetoPlaymag.com has finished testing this season's top toys. Chris Byrne, the site's director of content, gives KSL 5 the website's top eight toy picks for this year:

Kinect for X-Box 360. You are the controller on this video game. If you already have an X-Box 360, the Kinect bundle costs $150. If not, it runs about $300.
'Liv: It's My Nature" fashion dolls. For girls 5 and up. $14.99
Real Construction from Jakks Specific. Foam woodworking set. For boys and girls 5 and up. $25
Lego Hogwarts Castle set. More than 1,200 pieces. Boys and girls ages 8 and up. $130
Tonka Chuck and Friends Chuck's Stunt Park from Hasbro. Preschoolers - ages 3 and up. $40
Lalaloopsy doll from MGA. Has a website for interactive experience. Girls ages 6 and up. $25
Konexi. 3D word-building game. Ages 10 and up. $20
"Toy Story 3" Action Links from Mattel. Boys and girls ages 5 and up. Several different sets. $15-$40
×
Most recent Utah stories