Estimated read time: 2-3 minutes
This archived news story is available only for your personal, non-commercial use. Information in the story may be outdated or superseded by additional information. Reading or replaying the story in its archived form does not constitute a republication of the story.
LAYTON -- At Friday's Farm Bureau convention a $4,000 reward was given to a family who turned in a group of teenagers who were caught shooting cattle to death in Tooele County.
In the remote land of Tooele County, you'll likely see cattle grazing on the range, but back in January Tanner Ostler saw something else.
"We were just driving down the road and just came up on a Jeep, some kids laid across the hood, and we looked at what they were shooting at and they shot a cow," recalled Tanner Ostler.
The Ostler family called 911 and deputies were waiting at the exit for the four teenagers, who were prosecuted.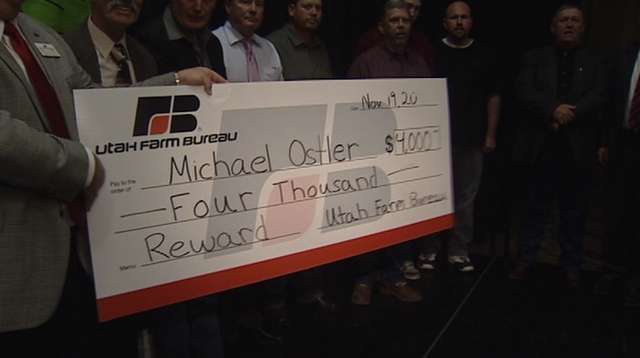 The teens shot the three cows to death that day, simply for target practice. Unfortunately, it's not the first time the rancher Rich Anderson has lost cattle from an intentional shooting.
"In the livestock business, there's enough stuff to fight -- weather and low prices and everything a rancher has to fight -- and then you have this on top of it, it's pretty depressing to go out there and see everything you've worked for, lying there ... finished off," Anderson said.
On Friday several organizations, including the Farm Bureau, Tooele County and the Humane Society of Utah, recognized Tanner, his dad Christopher, his grandpa Michael, along with James Christopherson, with a $4,000 reward.
"They did the right thing at the right time," said Leland Hogan, president of the Utah Farm Bureau. "And it's a good opportunity for us to show the fact we appreciate when people do the right thing, not only morally, but legally."
The reward was unexpected for the Ostlers, who said they got involved because they just wanted to help. "[We] didn't expect it," Tanner said. "[We] didn't think anything was in it for us."
And that's proof, that good deeds still get rewarded.
In addition to being prosecuted and paying $12,000 in restitution, the four teens also had the vehicle they were in confiscated, along with the guns that were used to shoot the cattle.
E-mail: spenrod@ksl.com
×
Most recent Utah stories