Estimated read time: 3-4 minutes
This archived news story is available only for your personal, non-commercial use. Information in the story may be outdated or superseded by additional information. Reading or replaying the story in its archived form does not constitute a republication of the story.
MURRAY — Two former BYU football players have been named along with three others in a civil lawsuit accusing them of stealing more than $50,000 worth of gas from a Murray company since 2004. But one of the defendants named in the suit, former BYU standout and NFL player Reno Mahe, wasn't even aware that he was being accused of doing something wrong until contacted by the Deseret News.
"I thought you were allowed to do it," he said. "I didn't steal no gas. I don't need gas."
The suit was filed this week by A-Core Concrete Cutting, Inc., headquartered in Murray. The suit names five defendants and an additional nine John Does as defendants. Among those named in the suit are Mahe, former BYU football player Tevita Ofahengaue, Mark Evers, Fred Prescott and Michael Andrus.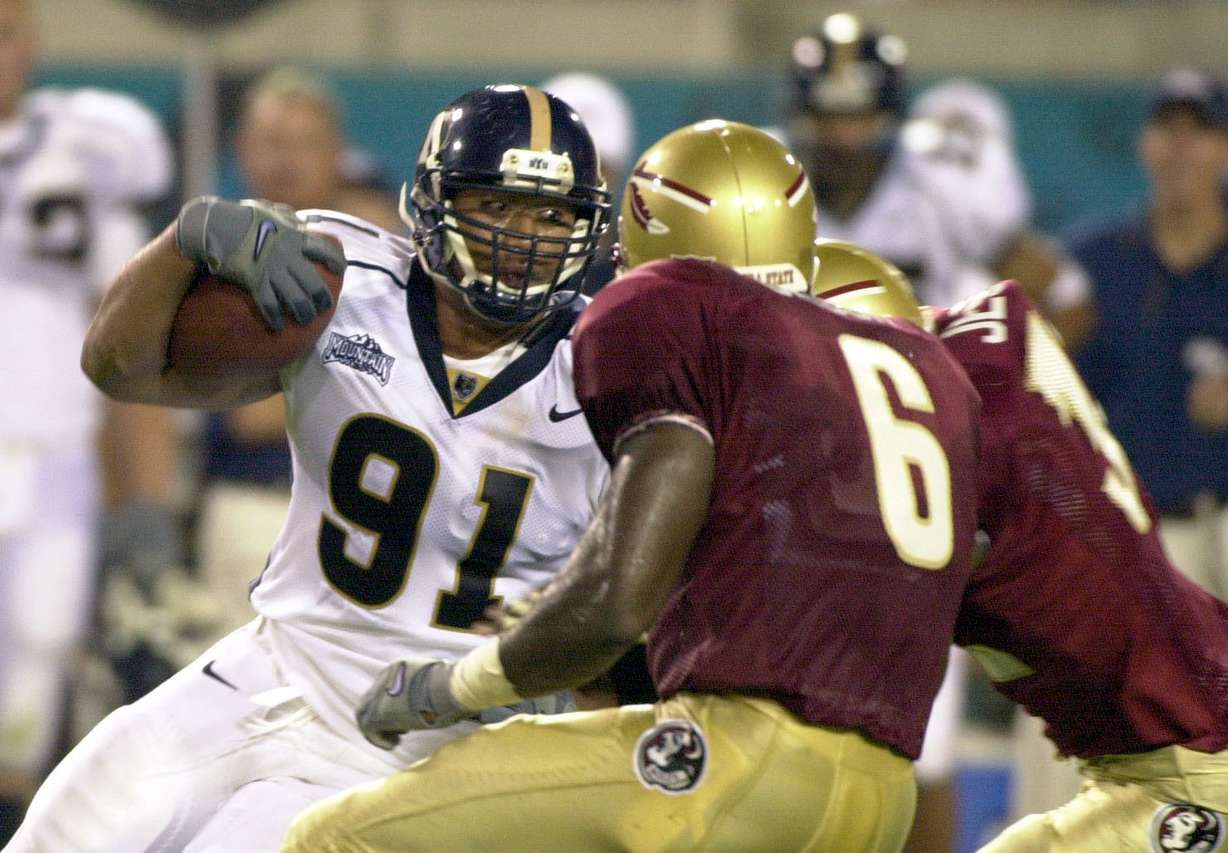 The suit claims that Evers, a former manager at A-Core, "stole or converted gasoline belonging to (A-Core) for his own personal use or the use of the other defendants and/or others acquaintances," particularly from June 2006 until October 2010.
A-Core claims Evers and his friends illegally took at least $55,600 worth of gas during that time period. They are asking to recoup that money plus 10 percent per annum.
A-Core's attorney, Ralph Tate, said the lawsuit "spoke for itself" and he could not comment further except to note that some defendants were more culpable than others — something that will come out in court, he said.
Mahe tells the Deseret News that Evers, who was recently fired from his job, was a friend from high school. He said Evers told him that he had an allotted amount of "use it or lose it" gasoline from the company each month. On some occasions, which Mahe said were few, Evers would allow him to fill his vehicle with some of the gas that he wasn't going to use for that month.
"I asked him, 'Wait, are you sure this is legal?'" Mahe said.
But because there were video cameras at the pump and a "manager code" had to be typed into the pump before it could be used, Mahe assumed everyone knew what was happening.
"If he has to push in his manager code, obviously they know he's getting it," he said. Mahe said he wasn't aware that Evers was allowing others to do the same thing. Now, Mahe said his was more concerned about his friend, Evers, whom he said was not the type of person to break the law.
"I'm not worried about anything legal. I'm worried about my buddy," he said. "He's never been in legal trouble. Knowing my buddy, I stand by him anytime. He's not a guy that's going to go out and do something illegal or ever do something illegal. I just feel bad for my buddy. I feel so bad for this whole situation with him."
Mahe said he had even met the owner of A-Core and was asked to speak at his grandson's mission farewell.
Mahe played for the Philadelphia Eagles for five years until 2008. As for his own involvement, he said he wasn't in Utah from 2006 to 2008. Once he returned, Mahe said he had his own gas card from his own company.
"It wasn't like I needed (A-core's) gas," he said. "I'll pay, if that's the deal. I'll pay my portion back if he wasn't allowed to give it to me. I'm not worried about that part. As a man, you pay back your debts."
E-mail:preavy@desnews.com
×
Most recent Utah stories