Estimated read time: 2-3 minutes
This archived news story is available only for your personal, non-commercial use. Information in the story may be outdated or superseded by additional information. Reading or replaying the story in its archived form does not constitute a republication of the story.
Sam Penrod ReportingSome BYU students are getting a chance to feel the need for speed. They've designed and built a race car using what they've learned as mechanical engineering students.
A race car is zooming around the BYU campus, the result of a project of mechanical engineering students. We're not talking NASCAR racing here.
It's a showcase of a turbocharged engine that runs on ethanol and what it can do on a racetrack. Project manager Andrew Enke said, "This is much more like a formula-style racer, scaled down, very agile, able to carry a lot of G-forces going around turns and be able to accelerate very quickly, too."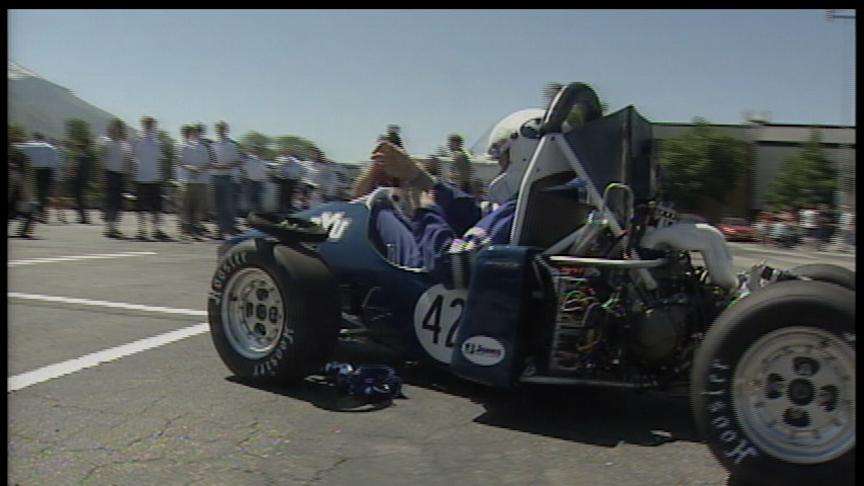 It takes some work to squeeze in behind the wheel of this car, but that's when the fun begins. Driver Jacob Zuehl said, "Driving the car is phenomenal. It's obviously faster than anything I've ever driven. It brakes really well, it turns really well, and it accelerates very hard."
The students have been working this project for nearly a year, and not only did they design this car, they actually built it. Enke said, "It's student-designed, student-built and student-raced, so it's an opportunity for all of us as mechanical engineering students to come together and have a good time to finish our senior project."
The goal of this project is to give the engineering students some real industry experience that they can't get from a textbook. Faculty adviser Robert Todd explained, "This is a marvelous learning opportunity for the students. It's tough to find something more motivating than something that moves as fast as this buggy moves. I mean, this is zero to 60 [mph] in about three seconds."
And students are still making adjustments to number 42, hoping when it comes time to race, they'll finish number one.
The BYU students will take their car to California next week to race it and compete with 80 other universities.
×
Most recent Utah stories