Estimated read time: 1-2 minutes
This archived news story is available only for your personal, non-commercial use. Information in the story may be outdated or superseded by additional information. Reading or replaying the story in its archived form does not constitute a republication of the story.
Courtney Orton Reporting A fire broke out overnight and burned up a mountainside in Emigration Canyon. Just as was the case in the Saratoga Springs fire, the rain helped crews fight the flames.
Fire authorities say the rain really worked to their advantage in fighting the blaze as it burned up the canyon. The fire started around 11 last night. Crews did their best to keep the flames under control, but darkness kept many of them off the mountain.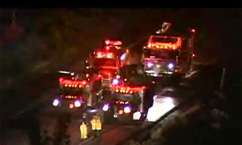 Dennis McKone, assistant to the chief of the Salt Lake City Fire Department, said, "The time factor at night for us is hard because we can't put a lot of people on the mountain for safety reasons. As you can see behind me, it is going straight up the mountain."
Crews watched the weather closely. As the storm moved in, they feared the wind would push the flames toward homes.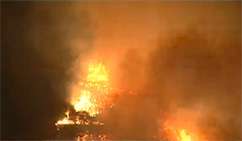 "If it goes east, we've got some homes to worry about," McKone said. "If it goes west, we have this -- This is the Place Monument."
The fire did not threaten any structures, but it did knock out power to some homes. The fire is now under control. Crews from one truck are watching the canyon now for any flare-ups.
The fire burned between five and 20 acres.
×
Most recent Utah stories