Estimated read time: 3-4 minutes
This archived news story is available only for your personal, non-commercial use. Information in the story may be outdated or superseded by additional information. Reading or replaying the story in its archived form does not constitute a republication of the story.
EPHRAIM -- Led by injured captain Preston Hadley, Snow College beat conference foe Scottsdale Community College 57-38 on Saturday in a tale of two halves.
In the first half Scottsdale quarterback Cody Sokol threw five touchdowns and 316 yards. Snow had only one interception and Sokol completed an outstanding 69 percent of his passes. At the break Scottsdale was in charge with a 35-17 lead.
"I couldn't sit there and watch my team get beat like that," said Hadley, a leader amongst Snow's secondary.
Hadley sprained his foot last week in Snow's Glendale game and sat out of practice all week. He paced up and down the sideline throughout the first half with a medical boot on his foot. After the break Hadley walked onto the field in full uniform.
"Preston Hadley did that on his own, nobody told him to do it," said Snow Head Coach Steve Coburn. "He's our emotional leader both off the field and on the field and he was a big difference in our ball game today."
From that point on Sokol completed only four of 17 passes and Scottsdale was held to only a field goal. Snow came up with four interceptions in the second half, one by Hadley. Sokol didn't finish the game; Tyler Mack took his spot with nine minutes left.
Along with Hadley's come back, credit for Snow's win must go to special teams. Alex Sweat made five out of five field goals and matched his career long by pounding home a 44-yard attempt.
"That's my job. I'm not going to try to do anything else but make every field goal," said Sweat. "That's what they expect from me and that's what I expect to do."
"He (Sweat) is always the first guy at practice," said Coburn. "He won't leave until we start picking the balls up off the field and taking them away from him."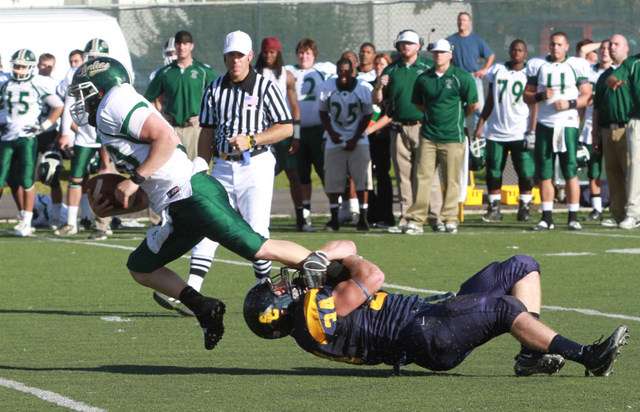 Ronrei Lloyd kept the game within reach when in the first half he returned a kickoff for a touchdown from 98 yards out. Snow had 201 kick return yards on just three tries.
Snow running back Matt Wright ran for 156 yards and three touchdowns, but had an unreal second half gaining 127 yards on just eight carries. He also scored two touchdowns.
"At half time we got together as a team and tried to hype each other up," said Wright. "We come out every game wanting to play four quarters. That's how we practice on this field and we don't lose home games."
The game was littered with personal fouls and a total of 239 penalty yards.
"Scottsdale and Snow, we're not the best of friends, It's always going to be heated," said Coburn. "Early we got some shots on the quarterback and got some penalties, but you see that it paid off in the second half. He was backing up and running away and made some bad passes later."
Snow outscored Scottsdale 40-3 in the second half. Snow College remains the only unbeaten team in the conference, but will have a tough bid next week as they travel to No. 8 Arizona Western.
(Pictures Courtesy Greg Dart/Snow College)
×
Most recent Sports stories