Estimated read time: 2-3 minutes
This archived news story is available only for your personal, non-commercial use. Information in the story may be outdated or superseded by additional information. Reading or replaying the story in its archived form does not constitute a republication of the story.
Oct. 15 Update:Following our broadcast, Blue Boutique general manager Janae Trujillo sent KSL the following statement regarding the UTA bus ads:
"Blue Boutique's intent with the ad was to inform the public on our Halloween costumes. The ad did conform to UTA standards. It was not Blue Boutique's intention to upset or offend anyone with the ad, and we sincerely apologize for doing so. Once we were informed that people were upset we promptly agreed to change the image."
---
Previous Story:
SALT LAKE CITY -- You may have seen some advertisements around town, posted on the back of Utah Transit Authority buses. They feature an ad for a local lingerie store, but some think they are a little too racy for the roads.
A Holladay man, who didn't want to be identified, says he first spotted the ads during a morning drive with his daughter.
"I was taking her to school, and she just said, 'Dad, look at that.' And it was right at me, you know?" the man told KSL News.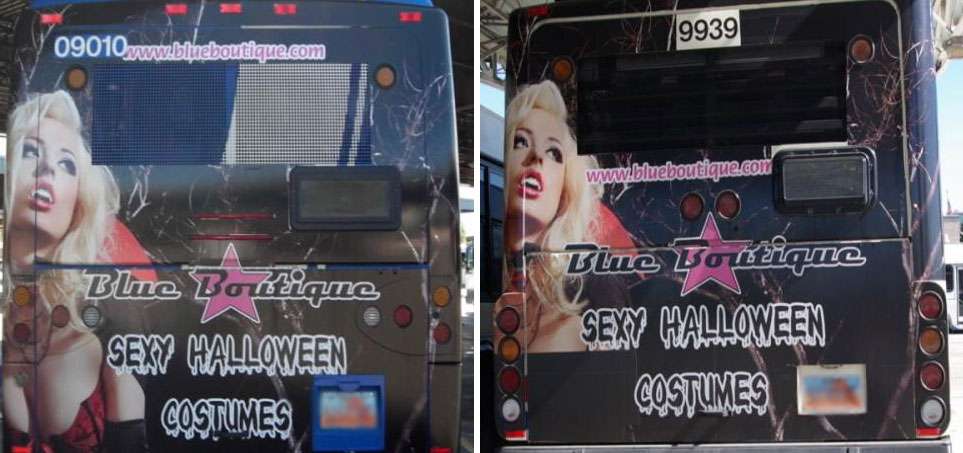 What followed was a very awkward conversation between father and daughter about why the vampire pictured in the ad looked a bit different than the vampires she had seen before.
"It was just very provocative," the man said. "You can probably say it was soft porn."
The Halloween ads for the lingerie store Blue Boutique run on 16 UTA buses that travel mostly through the Salt Lake Valley, with a few through Ogden. They feature a vampire with a little too much "va-va-voom" for some of the general public.
Shortly after the ads went up, the complaints started coming in.
"There were definitely some individuals out there who thought it was too revealing or offensive to them," said UTA spokesman Gerry Carpenter.
Carpenter says the ads do comply with UTA's advertising policy, which prohibits "explicit sexual material, obscene material, or material harmful to minors."
But UTA doesn't want to give anyone too much of a fright with the risqué Halloween ads, so the agency has worked with Blue Boutique and the advertising company to give the costume a little more coverage - adding a black vinyl patch on the bottom left corner.
Carpenter says Blue Boutique was very cooperative in adjusting the ads.
KSL News tried to contact Blue Boutique for a comment Wednesday, but our calls were not immediately returned.
E-mail: jstagg@ksl.com
×
Most recent Utah stories