Estimated read time: 2-3 minutes
This archived news story is available only for your personal, non-commercial use. Information in the story may be outdated or superseded by additional information. Reading or replaying the story in its archived form does not constitute a republication of the story.
Alex Cabrero ReportingThe Jazz had a big game tonight in New Jersey, but you couldn't see it on TV in Salt Lake unless you had satellite.
It basically comes down to money. Newly created Fox Sports Network Utah has rights to 13 of the Jazz games Comcast Cable doesn't have. FSN wants to sell the rights to Comcast, but Comcast says it's too much. Fans who still want to watch these games have to make other arrangements.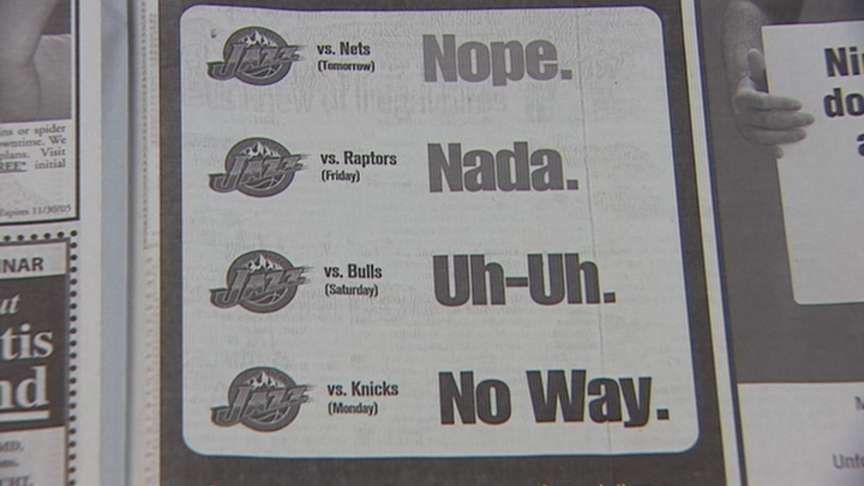 For 20 years now Arlean Simmons has followed the Jazz home games at the Delta Center, and away games on TV. But for the first time, she's angry, and it's not at the team.
Arlean Simmons, Jazz Fan: "My Comcast didn't put it on."
Comcast, her cable company, isn't airing 13 games at the beginning of this season, which is why Simmons visited Iggy's Sports Grill for the first time in her life.
Arlean Simmons: "I was very, very upset."
Bob Fitzsimmons: "I voiced my displeasure at the time."
Bob Fitzsimmons was there for the same reason.
Bob Fitzsimmons, Jazz Fan: "I understand their rationalization, but I don't agree with it."
Ray Child: "Our commitment to the Jazz is greater than it's ever been."
Comcast spokesman Ray Child says his company is airing 69 Jazz games this year; that's more than ever. Fox Sports Network has the rights to the 13 other games and offered to sell them to Comcast.
Ray Child, Comcast: "Those were available for a very substantial premium, which just wasn't worth it."
The offer was reportedly seven-figures, but Fox Sports Net General Manager Tim Griggs said in a phone interview from Denver, it's worth it.
Tim Griggs, Fox Sports Network: "It appears Comcast doesn't see the value of these games, and we hope they change their minds and listen to the fans."
Because in the end, fans just want to watch their team.
Arlean Simmons: "What does all that money and all that promotion do for them, if you can't see the game?"
Fox Sports Net even bought ad-space in local newspapers, saying Comcast isn't allowing you to watch these games. FSN sold the rights to smaller cable and satellite companies, but Comcast isn't budging, saying they're still airing 69 of the Jazz's 82 games.
×
Most recent Utah stories