Estimated read time: 2-3 minutes
This archived news story is available only for your personal, non-commercial use. Information in the story may be outdated or superseded by additional information. Reading or replaying the story in its archived form does not constitute a republication of the story.
AMERICAN FORK -- An Air Force reservist who is stationed in Afghanistan still managed to be in the delivery room for his daughter's birth in American Fork.
He wasn't there physically, but thanks to an internet connection he was able to be there virtually.
When Geiber Rea was called to active duty a couple of months ago with the 419th Civil Engineering Squadron, he knew he would miss his daughter's birth.
Thanks to Skype, an internet video chat system, he had a video link to see his little daughter being born, even though he is half a world away.
"How fortunate I am to at least -- even though the connection is not the best, at least have something like this," the new father said.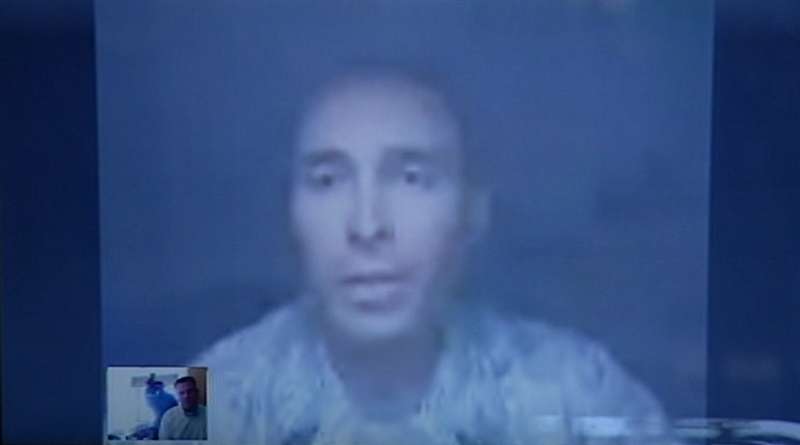 Amelie Jane Rea was born at American Fork Hospital Tuesday at 9 pounds, 2 ounces. Her father, Senior Airman Geiber Rea, got to see and hear Amelie's first cries.
"She is more beautiful than I ever thought. I'm just glad she doesn't look anything like me," he joked.
He was also able to offer his wife Cecilia support while she was in labor and through the delivery.
"He was supporting me and he was worried if I was in pain or not," Cecilia said. "It was kind of in a way like he was here, but I couldn't hold his hand."
Cecilia set up the Skype connection from her laptop computer in the hospital room.
Some of Geiber's colleagues based at Hill Air Force Base were there to offer support and gifts, which he says helps him feel closer to home.
"It's a good feeling to know everything is OK back home and to be right there as it's happening to see it," he said. "It gives me a lot of relief being so far away."
They both know someday little Ameile will understand her dad did his best to be there for her birth -- and because of technology, it's a memory they will always share.
"I know she is going to be so proud to know that even though her daddy wasn't here physically, he was there in a way and he was serving his country," Cecilia said.
"There's a lot of happiness in this moment, and even though I am away from my family, it's good to be able to serve," Geiber said. "I'm happy to be here, until I go back home and cam be with my family again."
Geiber has been deployed since late July. He's scheduled to return home and meet his daughter in person in sometime in January.
------
Story compiled with contributions from Sam Penrod and Becky Bruce.
×
Photos
Most recent Utah stories