Estimated read time: 3-4 minutes
This archived news story is available only for your personal, non-commercial use. Information in the story may be outdated or superseded by additional information. Reading or replaying the story in its archived form does not constitute a republication of the story.
LOGAN -- A lightning strike at a Friday night football game last month sent a girl to the hospital and delayed the game. But what if school officials could get a warning about the danger before the lightning struck?
One Logan company uses electric field meters to make that possible. By the time lightning crackles across the sky, an electric field meter outside Campbell Scientific has already given workers a head start to issue a safety warning for that area.
---
You don't want to be the first lucky candidate to get the lightning strike, so this will give you a warning of that.
–Alan Hinckley, Campbell Scientific
---
#hinckley_quote
Logan High School and Skyview High School also have meters mounted above their stadiums.
"You don't want to be the first lucky candidate to get the lightning strike, so this will give you a warning of that," said Alan Hinckley, meteorologist for Campbell Scientific.
This generation of technology is four years old and measures the electric charge in the atmosphere.
"As the storm approaches to within about five to seven miles, it will start to influence the unit and raise the voltage it measures," Hinckley explained.
The meter sends data to computers that chart the electric field and trigger warnings if necessary.
A fair weather field reads minus-100 volts per meter. At 1,000 volts per meter, yellow lights flash indicating a state of caution.
"At 2,000 volts per meter," Hinckley said, "we go into an alarm mode. Typically, you should be seeking shelter indoors or in a car."
Two thousand volts per meter is enough charge in the atmosphere to trigger a lightning strike. Maximum voltage during a lightning storm climbs anywhere from 10,000 to 20,000 volts per meter.
The meter warns you even when you have not seen lightning or heard thunder. It's not a precise threshold, but a standard the Navy follows.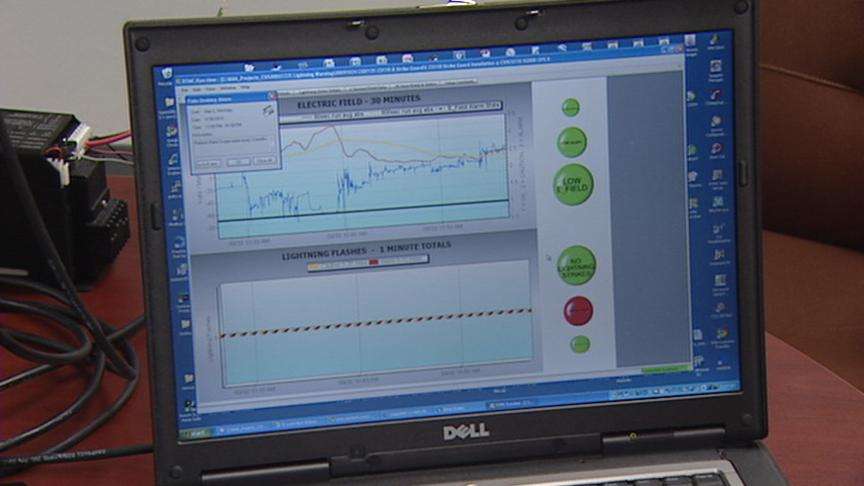 "That same night the lightning struck in Springville, the same series of storms rolled up to the Cache Valley and across the football field at Logan High School. That's when the electric field meters started giving them critical information, so they could make important decisions about safety," Hinckley said.
"Our little monitor up here on the school, when it hit red, we had officials asking questions about it," said Brad Nelson, athletic trainer at Logan High School. "We told them, 'The clouds are electrically charged. We're in danger of a lightning strike here.' They were good. We cleared the field and went inside and waited for the storm to pass."
Inside, they pulled up the electric field data and assessed the danger.
"They sat there and watched it as it came back into the safe zone," Nelson said.
The school delayed two other athletic events this fall, and has done the same for other events in the last few years -- it's a tool they use.
"We've had to stop games in the middle of them and bring people inside, and wait for the storm to clear," Nelson said.
But the meters do not replace lighting strike detectors or common sense guidelines. For example, it's always good advice that "when it roars, go indoors." Then there's the 30-30 rule, which advises that if you see lightning and hear thunder within 30 seconds, head indoors.
"We don't just use this," Nelson said, "but it's a tool we use to determine whether it's safe to play or not."
"For storms that are just building, or don't have very much lightning -- where there's a doubt -- this takes some of the doubt out of the equation," Hinckley said.
Also, a warning is not a guarantee of a lightning strike.
"You have to have a charge in the atmosphere in order to have lightning," Hinckley said. "But just because you have a charge in the atmosphere, doesn't mean you will get lightning."
You can log on to your computer in Logan and see the data from three meters to make decisions about a golf game, an evening barbecue, or a hike in the mountains. It costs about $10,000 for the equipment.
E-mail: jboal@ksl.com
×
Related links
Related stories
Most recent Utah stories