Estimated read time: 2-3 minutes
This archived news story is available only for your personal, non-commercial use. Information in the story may be outdated or superseded by additional information. Reading or replaying the story in its archived form does not constitute a republication of the story.
ST. GEORGE -- Two southern Utah high school students were critically injured in a lightning strike Tuesday afternoon. The lightning bolt hit a tree they were standing by at Snow Canyon High School in St. George.
School officials say the strike happened around 3 p.m., shortly after school let out.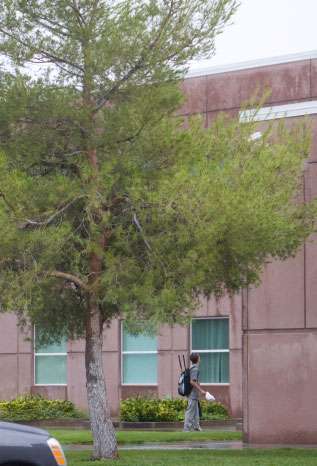 "The fact that it was witnessed by so many people, it was quite a traumatic experience for students," said Marshall Topham, assistant superintendent of the Washington County School District.
St. George police said the sky opened up suddenly, unleashing rain, lightning and thunder. Eleventh-grader Dane Zdunich and 12th-grader Alex Lambson were out by a tree on the north side of the school when they were struck.
"A number of people noticed it immediately. There were a number of students around," Topham said. "The Huntsman Senior Games were going on at a nearby football field, and the lightning attracted quite a bit of attention."
"The two young men were dragged into the building, where CPR was started by the school officials and by the school resource officers," said Sgt. Craig Harding, with the St. George Police Department.
School administrators called 911, and an ambulance transported the two to Dixie Regional Medical Center. Once they were determined to be in critical condition, doctors immediately dispatched an emergency helicopter to take the teens to University Medical Center in Las Vegas.
Marshall said the 17-year-olds showed signs of hope as they lifted off; both their families were on their way to Las Vegas as soon as the teens left.
"We feel terrible for the family," Marshall said. "Our faith and prayers are with them, and we certainly wish them the best."
At last check, the two boys were still in critical condition in the pediatric intensive care unit at University Medical Center.
A crisis counselor was on hand shortly after the incident happened. The school district also plans to provide a trauma counseling team for students at Snow Canyon High School Wednesday.
-----
Story compiled with contributions from Nicole Gonzales and Nkoyo Iyamba.
---
×