Estimated read time: 2-3 minutes
This archived news story is available only for your personal, non-commercial use. Information in the story may be outdated or superseded by additional information. Reading or replaying the story in its archived form does not constitute a republication of the story.
OREM -- An Orem man fell victim to a scam he now wants to warn others about.
It's become known as the "white van speaker scam," where a sound system is sold for hundreds of dollars when in reality it is nothing more than junk wrapped in a nice package.
A remorseful buyer told KSL it looked all too legitimate at the time. But when he got home and looked in the box he had just purchased, he discovered the speakers weren't worth anywhere near what he'd been promised.
In this case, the sales pitch wasn't so much about buying speakers as it was about the possibility of turning around and selling the speakers for much more money to someone else.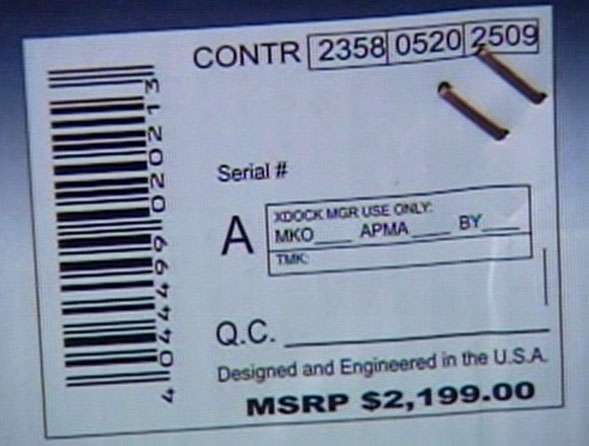 Adam Orchard was driving down the road Friday night when two men pulled up next to him and asked him if was in the market for a surround sound system.
Orchard says the men were wearing polo shirts and slacks and didn't look shady at all.
"They looked clean cut, they looked like car salesman," Orchard said. "They were driving a nice SUV and asked me if I wanted some of their goods."
The men talked of coming from Park City and sold the speakers that came in good packaging with a suggested retail price of $2,199.
"They wanted me to give them $300, and I started to walk away," Orchard said. "Then they dropped it to $200 and they said, 'It's a tenth of the price of what they are actually worth.'"
The men even suggested he could sell them and easily triple his money, if he had second thoughts.
Police insist there is little they can do in cases like this, other than pursue these speaker sellers for operating without a business license.
Officers warn that buying from a private party can always be risky.
"The last place I would buy a sound system is out of the trunk of somebody's car in the parking lot of a local restaurant," said Sgt. Craig Martinez with the Orem Police Department. "Go to your major retailers and buy one."
It's advice Orchard now echoes to others. While he is only out $200, he fears others could be taken for much more.
"Make sure you do your research before making a purchase like this," he said. "I was in a hurry and they took advantage of it, so make sure you know what you are buying."
By the end of the transaction, Orchard was suspicious enough that he got the license plate number of the sellers. It turns out the plate didn't match the vehicle, giving police little to go on to find the two men.
E-mail: spenrod@ksl.com
×
Most recent Utah stories